Fortnum & Mason, The Royal Exchange
Bringing a beloved brand to a new audience
Fortnum & Mason's first foray beyond the walls of its iconic Piccadilly store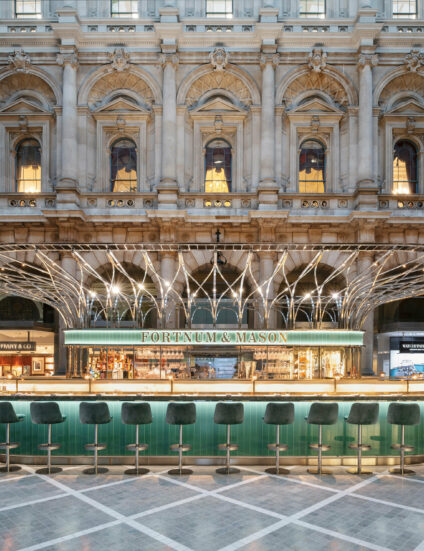 In 2017, Fortnum & Mason called upon us to create the design for a restaurant, bar and store in the City of London's Royal Exchange—its third location beyond its Piccadilly base. The bar and restaurant occupy a central position in the internal courtyard of the 16th-century building's magnificent 5-storey atrium, while the retail store is tucked within its historic internal archways that line the perimeter. To ensure comfort within the vast atrium, careful attention was paid to the human scale and individual customer experience.
The scale and proportions of the bar canopy were very carefully calculated so that they created a sense of enclosure and protection, while also serving as a sculptural centrepiece within the grand architectural context.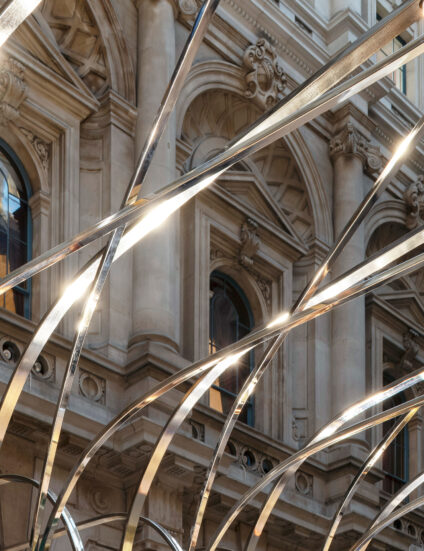 Our challenge was to transpose over 300 years of heritage into a new location outside of Piccadilly. We needed to strike a balance between tradition and modernity, with authenticity, elegance and, most importantly, the retailer's signature sense of joy. As a starting point, we looked into the brand's history of hospitality and travel. Fortnum & Mason's legendary hampers famously accompanied the 1922 Everest expedition, providing essentials and luxuries such as butter, tins of quail in foie gras and bottles of champagne.