Using handcraft to elevate human experiences
Craftsmanship collaboration with Manchester based studio- Nocturne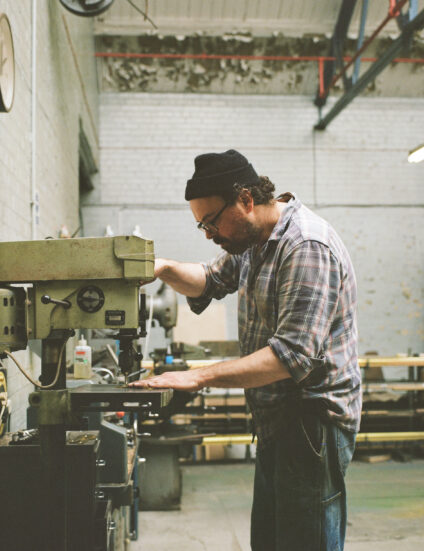 "Everything changes when something is in 3D, from the way the shadows fall to the proportions between things, and you also often need to sit with a design physically before you know how successful it's been." —Sonia Tomic
Sonia Tomic (ST): We've worked with Simon on quite a few projects now. We were introduced through our retail work for Selfridges and from there it expanded to collaborating on the Fortnum & Mason Royal Exchange, as well as our own kitchen at Universal Design Studio and the San Carlo Bottega champagne bar, also at Selfridges. They're all pretty diverse projects but we turned to Simon to create a warm, human focus in each of them. His lighting gives that handcrafted touch that encourages people to gather round, like a campfire.
Simon Day (SD): Universal come to me with beautifully rendered designs and they have a clear idea of how they want one of my pieces to fit into the scheme. But what I love is how open they are to material experimentation and to the process of translating that design into a material object. They may have specified polished brass, for example, but then there are many types of brass to choose from and questions like 'do we keep an edge on it?', etcetera. There are so many tiny decisions in the making process that change the feel of a piece.
ST: Yes, it's that level of detail in the exploration of materials and technique that's so exciting when working with collaborators, because although we're architects and designers we're not necessarily craftspeople – so working with specialists like Simon means you get introduced to other practices and new materials, finishes or processes that we might not be aware of. It's just so enriching, for me personally but also for a project. It means that things can develop way beyond the place you would have taken them working alone, just because you're working with new ideas and new materials. Simon acts as that connector point for us.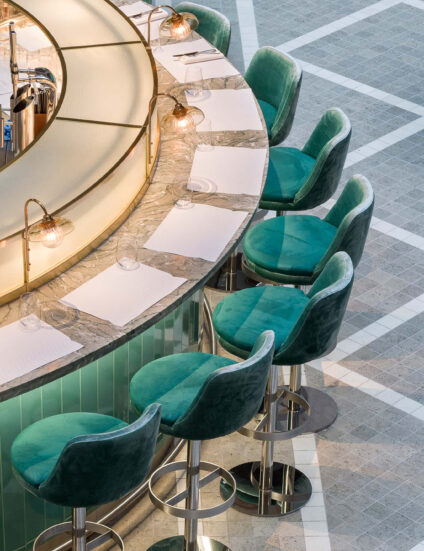 SD: So much of making is held in your hands not in your head. You can see your hands repeating movements or solving problems before you have even really thought it through. It's definitely about problem-solving in whatever way you can, which means the process can be a really exciting one. For example, when we were working on the San Carlo lamps we actually ended up building our own bulbs for those, because the design was so translucent with the hanging chains; it was suddenly clear that we couldn't just have a standard component at the heart of it. And I think that process really demonstrated the importance of prototyping, because without building physical models of the designs these issues wouldn't have become clear.
ST: I completely agree: there's only so much we can solve with a drawing and it's crucial to have a really active prototyping stage built into a project, rather than just having a quick cursory one to tick a box. Everything changes when something is in 3D, from the way shadows fall to the proportions between things, and you also often need to sit with a design physically before you know how successful it's been. When we're working with a trusted maker like Simon we actually try to avoid providing too much detail in the drawings, as we want that to unfold in the making in terms of how the details are resolved. We, of course, have a clear idea of how we need it to look, but the actual making we try to keep as open and collaborative as possible. Again, it's about leaving enough room for the craftsperson to make the connections for you.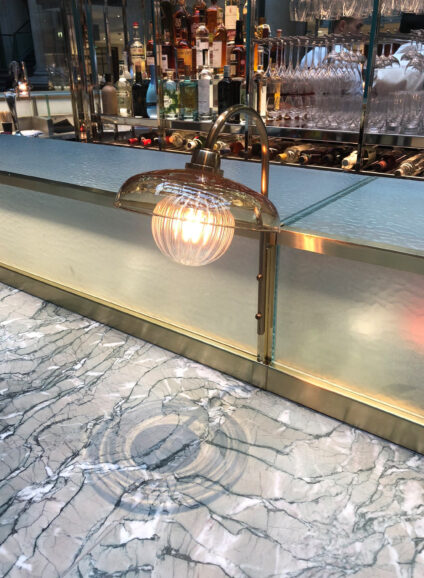 SD: I like that idea of being a point of connection, and I think that's how I've always tried to work really. So, again, with the San Carlo lamps the Universal team gave me the designs and then I went away and made some rough prototypes to test out materials, but at the same time I was also consulting other craftspeople like our metal spinner, Jim – who's been doing it for fifty years – and asking what his approach would be, so already you've got this really collaborative process of different specialists working together to solve the problem. I could try to learn how to spin metal and take it in-house, but I don't feel I need to do that because I really enjoy and respect working with specialists.
ST: I often see Simon as the guardian of the design. And that's the major difference between working with a collaborator versus a contractor. A contractor is just about execution of the design and doesn't add a layer of assessment, whereas a collaborator really brings that expertise to bear on a project.
SD: A lot of this just comes down to how you enjoy working, doesn't it? There are moments when you have to stand back and take stock and remind yourself why you're doing something. For me this kind of process is just very satisfying, where you know you've worked hard to make something the best that it can be, right up to the final install, and then the moment when you can see people interacting with it. One of my lights might just be a small part of a huge and complicated design, but I want it to be doing the best job it can.
ST: You say your lights are one small part, but I'd disagree with that – they're essential details that bring the whole thing to life. I don't think it's possible to capture the impact of these handcrafted details with photography; it's something you just have to experience physically in the space, and you can see what a difference it makes to people when they're in these spaces. A lamp may seem small when you compare it with a 10-metre (32¾-foot) bar counter, but I'm obsessional about holding on to these details because they're what give the final project heart.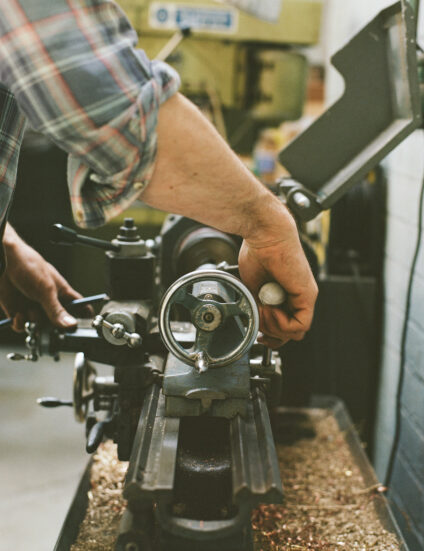 "So much of making is held in your hands not in your head. You can see your hands repeating the movements or solving problems before you have even really thought it through. It's definitely about problem-solving in whatever way you can, which means the process can be a really exciting one. "—Simon Day