Our studio is a platform for the creativity of our whole team and our collaborators to come to the fore. A coalescence of disciplines and personal passions working in unison and friction at the same time.
Everything we do begins with our team, our culture is central to the way we work and play. Universal was founded on the knowledge and expertise of the collective, individuals coming together to share ideas, to discuss and to debate. Our team includes architects and designers, makers and thinkers, visualisers and wordsmiths, strategists and project managers. We are diverse in our skills and also in our interests, our personal pursuits are just as important as our professional ones.
Our studio in Clerkenwell is shared with our sister studio Map Project Office and we were joined in 2021 by Made Thought. As a collective, we have created a space that encourages collaboration and puts making at the heart of everything we do, this is both in our process and through the physical manifestation of our studio which houses our workshop and materials library at the centre of the space. For us, learning doesn't stop when you enter practice, in our studio you might find people making or drawing, running workshops and engaging in design pin-ups. Our kitchen is a place for our team during the day but also at night, playing host to all manner of events - from gigs and dinners to talks and film screenings.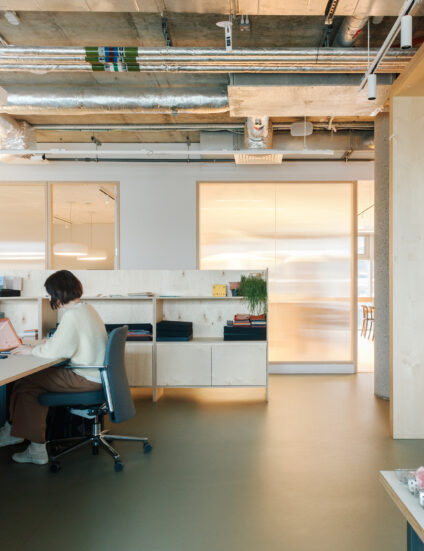 "It became, and continues to be, a coalescence of innovative minds unconstrained by a single point of view, an egalitarian centre for creativity." — Edward Barber and Jay Osgerby, Universal Design Studio: Inside Out, Phaidon, 2021