Referencing the temporary structures that accompanied the explorers and provided a sense of shelter and place, such as tents and tea canopies, we designed a sculptural, 360-degree bar as the restaurant's centrepiece. It features a canopy made of curved metal bars that allow customers to admire the building's architecture. Its gently curved, braided metal construction was inspired by the craftsmanship and quality of English decorative art, silverware and tableware.

The canopy comprised of curved steel strands, individually nickel plated, with two different finishes applied to different faces—polished or lightly brushed. This approach was developed in collaboration with lighting designers Speirs and Major to ensure the open framework of the canopy would respond to any lighting effects directed towards it. The lightly brushed surfaces were used to catch the light and create an overall glow, while the polished surfaces provided a sparkling lighting effect in concentrated areas.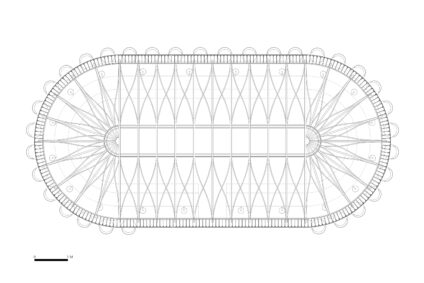 Each metal strand is individually hand formed by four crafstmen over a custom made jig. The form takes shape from a straight, raw steel hollow section. This is transformed into a curved and complex piece of sculpture, following a mesmerising series of orchestrated manoeuvres around the jig and throughout various pieces of equipment in the workshop. The canopy was made by Ollie Helps and his team from Random Products, based in Brighton.