Design as a catalyst for culture: Enriching a neighbourhood for locals and visitors
Ace's first international outpost rethought hospitality with a focus on placemaking, a platform for culture and a space for the community
100 Shoreditch High Street is situated at the heart of East London's most renowned neighbourhood, and was selected as the best location for Ace Hotel's foray into the international market. As with other Ace locations up until that point, the building was chosen by its enigmatic founder Alex Calderwood, with whom we had the privilege of collaborating with over a two year period on this project. Considered a cult brand, Ace had found its recognition through a careful curation of all of its sites - looking for neighbourhoods where it could have an impact beyond tourism and really connect with local communities and create a space for locals and visitors alike.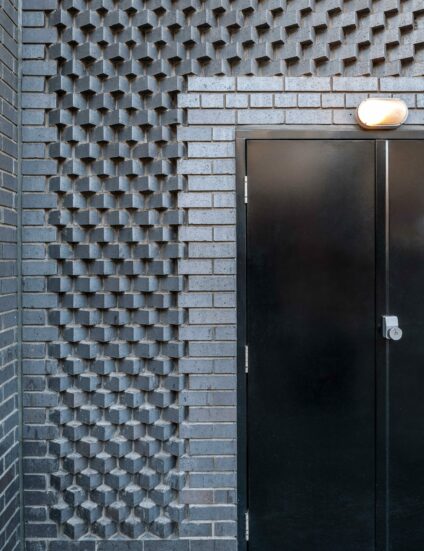 "Ace's relevance is to this day still found in its embrace of both ends of any spectrum: aspirational and accessible; understated and confident; urbane and youthful. Its hotels are places to work and play, to dip into and to stay." — Design Anthology, Issue 08 2020
With a public facing lounge and reception area featuring retail, a bar, café and art gallery on the ground floor, and additional event spaces on the seventh floor, part of our brief was to help to create and curate the perfect backdrop for this diverse mix of users of the space. Shoreditch is a hive of activity where art, design, culinary innovation, culture and technology coalesce—a vibrant fabric that the hotel became a central part of upon its opening. In addition famed East London restaurant Bistrotheque opened a second location on site - Hoi Pollioi - that was accessible via a flower shop at street level.
Overall, we were commissioned to create a hotel whose ethos would be underpinned by the desire to find the authentic voice of the place —a thread within the fabric of the neighbourhood. The major challenge was transforming the existing purpose-built hotel, an anonymous and generic building that was out of kilter with its surroundings, into a hotel that had a strong relationship to its immediate context. The site was previously occupied by The London Music Hall, one of many musical theatre buildings in the area that contributed to the rich history of performance and arts.
Our work also involved the design of 265 guest rooms, which were approached through the lens of a 'friend's apartment' in Shoreditch. With this in mind the rooms were dressed with objects and furniture that gave a sense of a collection created overtime, where items were curated but felt they would have stories and memories attached to them.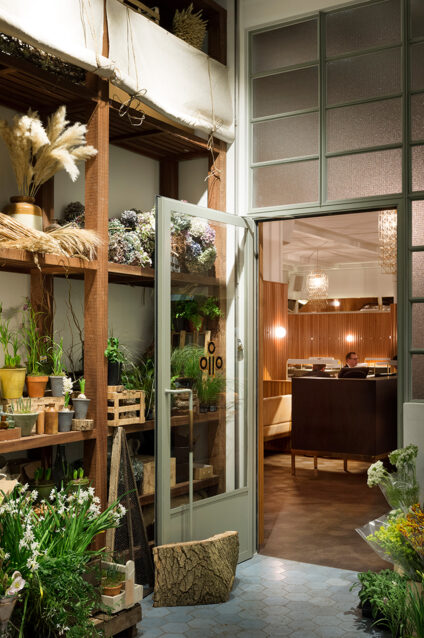 "Where you stay says much about who you are. Who wants to stay in a city hotel that isn't connected or engaged with the local areas and communities?"— Alex Calderwood, Founder of Ace Hotel
For us, the hotel lobby was an extension of public space. We wanted to create a central hub that could be used by like-minded hotel guests and locals for meetings, collaboration, or as a place to escape from their home or regular workspace. In addition, we wanted to see a slow transition from day to night, where laptops might eventually disappear and replace cocktails and groups of friends catching up.
To aid in the coexistence of these complementary activities we employed a robust furniture strategy, using screens and different arrangements to create a series of smaller 'rooms' within the lobby. The smaller pockets were tailored more to specific needs and activities, from focussed or collaborative working, informal meetings, evening drinks or ad hoc activations, exhibitions and installations.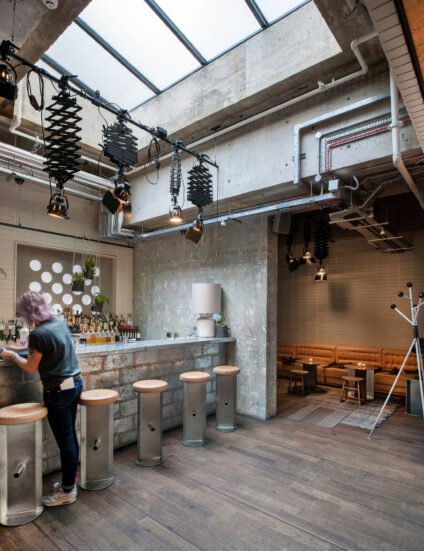 The overlapping of leisure and business activities is perhaps the most obvious change we have witnessed in the past decade. Despite the fact that many of us are now able to work remotely, people are still attracted to workspaces that feel social even if their work is solitary. In addition those travelling for work no longer want to stay in generic business-orientated hotels where the design and experience is the same no matter where you are in the world. They crave a genuine engagement with the local culture no matter how short their stay. Altogether, this has had a big impact on the public areas of hotels, which are now as much workplaces for locals as they are for guests.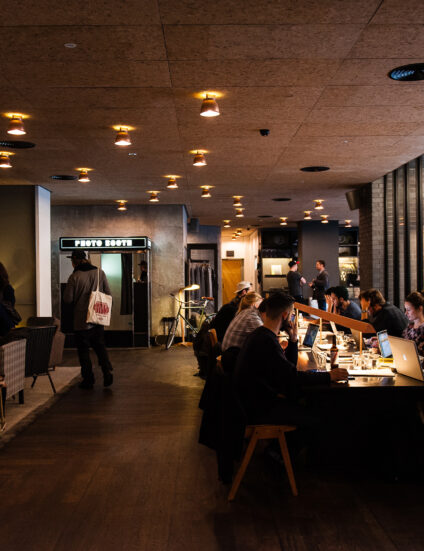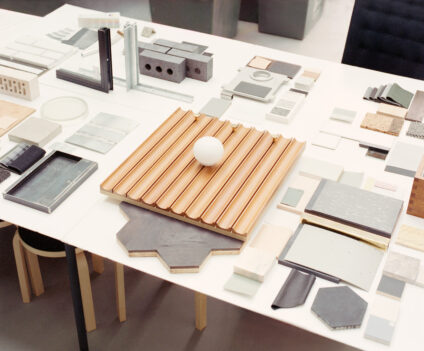 "Known for their distinctive design aesthetic, recognisable for its simplicity and clever use of material details, and a bespoke approach to each client, Universal Design Studio was a natural choice to help translate the Ace ethos into a London vernacular. Both exterior and interior design focus on traditional craftsmanship, embedding the space within the historic context and material heritage of Shoreditch." — Dezeen