Defining a brand identity within the setting of a traditional mall
A second luxury retail outpost for Beymen located within the İstinyePark mall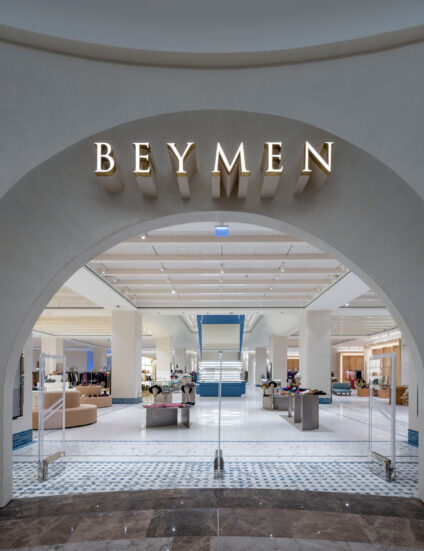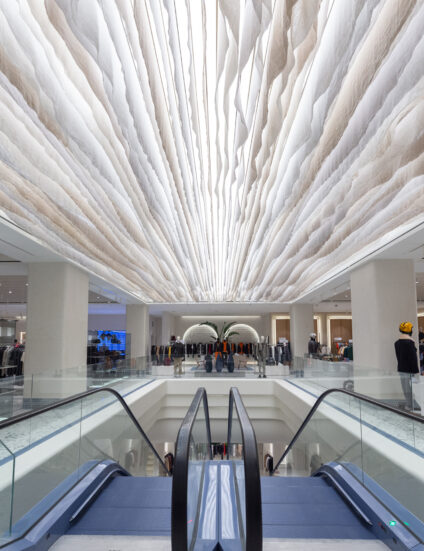 Our second outpost for Beymen is located in an İstinyePark mall in the popular coastal resort of İzmir. The 3,200 square metre, two-floor site sits in stark contrast to its Galataport counterpart, with the new design needing to sit within a more traditional mall environment. Here, our design team introduced a concept inspired by the surrounding Aegean coastlines, foregrounding luxurious material palettes and bespoke installations to lift the space beyond the architecture of the pre-existing mall.
İzmir blue was the starting point for the İstinyePark brief so we sought to channel Grecian influences through a contemporary lens. A seaside inspired material palette combines terracottas, bleached woods, white stone-like walls and tile details whilst architectural features are routed in organic forms, a nod to rounded beach pebbles and Aegean coastal buildings.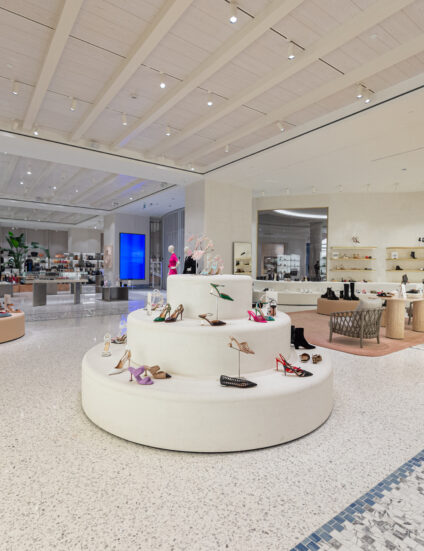 At ground level, the site opens onto the mall's outer courtyard where the main luxury brands are located. To give the store a defining exterior that sets it apart from its boutique neighbours, we designed a statement facade with towering, polished marble pillars and expansive double-height windows. For the internal, lower ground entrance, a deep, arched, off-white threshold is a further nod to Grecian seaside architecture.
The store's hero feature is an impressive ceiling art installation that takes centre stage over the escalators. The visual representation of costal waves and wind is formed from long torn stretches of textured paper which gently ripple as air blows through them.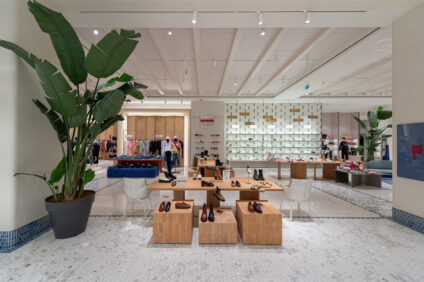 Design for a third site-specific store is currently underway, set to open in İstinyePark, Istanbul, in 2023 when Beymen celebrates its 50th anniversary. The two Beymen destinations are the latest addition to our extensive retail portfolio which includes spaces for L'Oreal-owned Biotherm, Stella McCartney, H&M, Mulberry, and Georg Jensen. Other retail projects set to launch this year include a reimagining of the seafood quadrant at Berlin's foremost department store, KaDeWe.