An Afternoon at The Royal Exchange
Corinthian structures assemble the grand façade of a portico, as The Royal Exchange shadows the tumult of Bank tube station, whispering layers of a past financial landscape.
In approach to such entrance, the ring of city callings fade into the climb of steps and the stillness of concrete. Through the wander of a doorway an atrium reveals itself at play, where embossed archways repeat at great heights, as sunlight dances upon the softness of smoked floor tiles. Anchored in its presence a canopy of brushed steal sculpts the bar of Fortnum and Mason where the eminence of Eau de Nil softly glows beneath the heights of delicate architecture.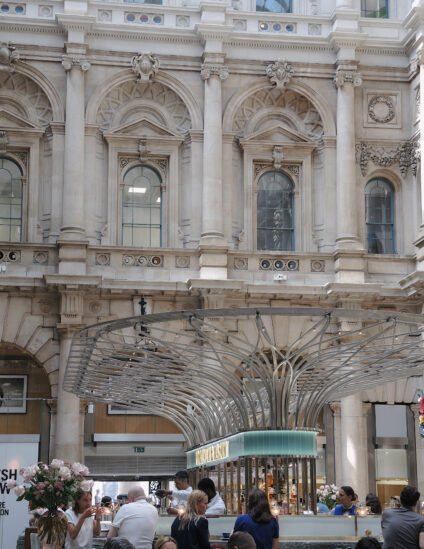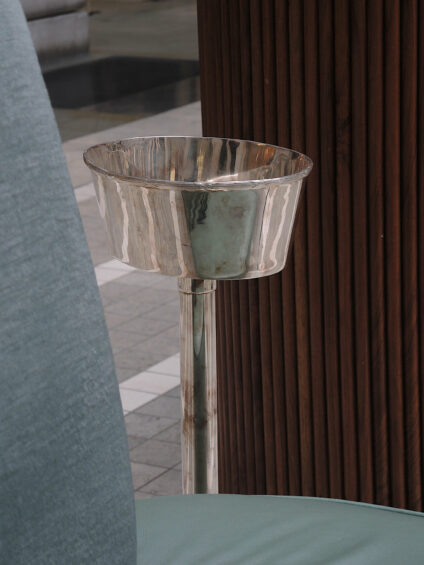 Situated in its centrality, the bar diffuses blue hues amongst the echo of hushed jazz; reflections dance upon the rim of wine glasses. Shoes tap upon the steel base of velvet bar stools which cushion conversation. Each stool follows another, running alongside a stream of island marble, precise in its positioning. Bar lamps arch, spotlighting considered cuisine, floral crockery and the burnt zest of tumblers; blushing tints of pink from the shells of hand-blown glass. Through such rich materiality choices and ambient lighting the interior remains authentic in connection to its Piccadilly store. The Royal Exchange rather illuminates the key framework of Fortnum and Mason, signified through their bold colour identity, strong signage, elegant forms and traditional materials of rich walnut, crafted glasswork, and lush velvets.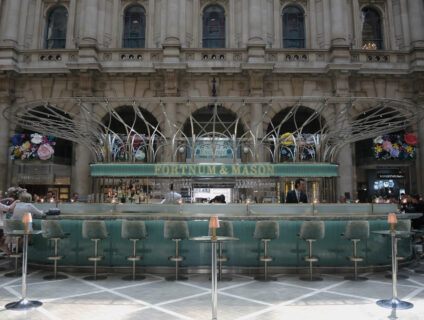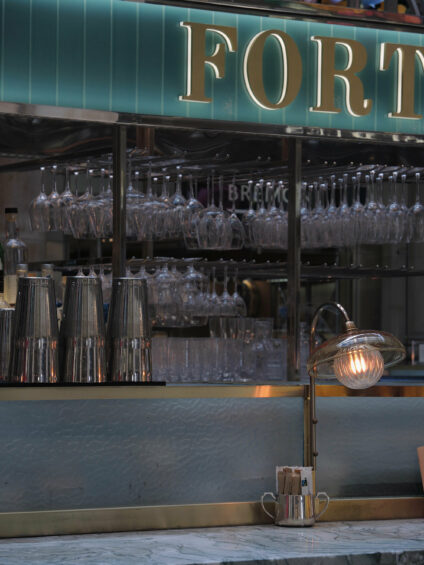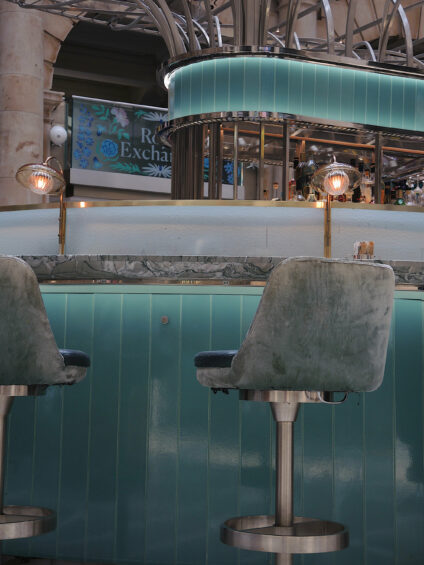 A theatre for fine dining, where golden liquids flow, cutlery chimes, and bar staff smile humbly amongst the stems of roses. The emergence of distinct steelwork watches over graceful happenings, mirroring the opening of flowers which intertwine in the base of opaque vases. This type of dining re-defines itself in connection to public space, for it does not sit in isolation nor does it segregate, it encourages the individual to circulate its form, to speculate and enter. It is human centred in its approach, drawing in the collective through its openness and centrality.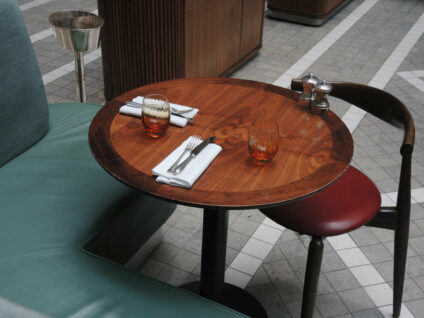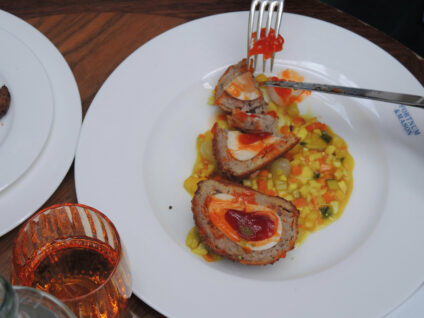 On both sides of the main dining area three bar tables sit in isolation, they are poetic in their presence. A singular pink lampshade sits upon a glass tabletop, rippling the above pale bronze signage. Each table rich in its simplicity and materiality, evokes a fictional presence, as though dropped from a traditional movie set. The interior is graceful in its character and rhythm, activating a sense of curiosity in its technical composure. It is these deep design considerations and sensitivity to detail that communicates such poetry between human behaviour and the intricate interior of Fortnum and Mason, The Royal Exchange.
Mollie Forsyth has been a Designer at Universal Design Studio since 2022, joining the team after graduating from Glasgow School of Art. Her work at Universal spans across the studio's diverse portfolio. In her spare time Mollie is an avid writer and photographer.