The launch of Volvo's most compact SUV to date
Using AKQA's overarching concept around scale as inspiration to bring to life a space to launch the EX30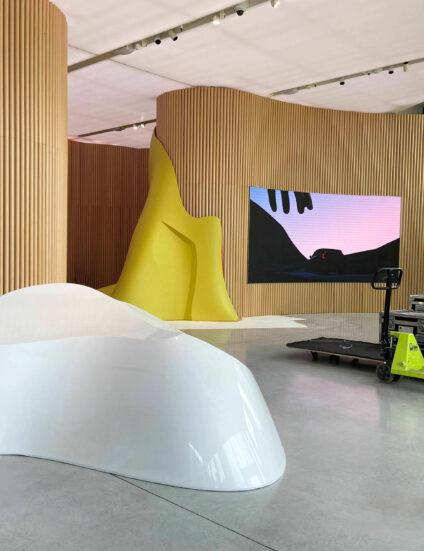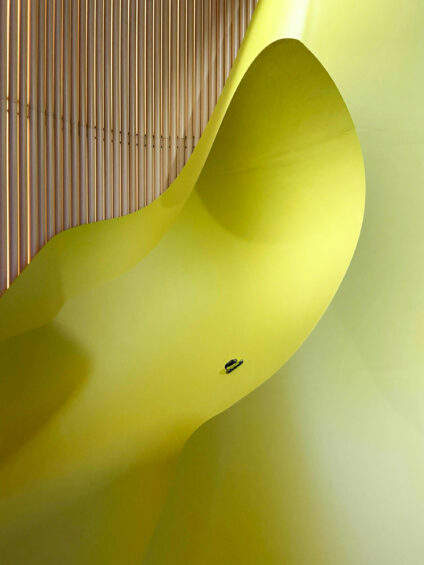 "The project was a chance to bring to life not only the ambition of the EX30 vehicle, but also AKQA's overarching vision for its launch and digital strategy. It was this cohesion between the digital and physical that will allow visitors to the space to fully immerse themselves in the unique innovations in the new EX30 and the lifestyle adventures it will take them on."— Nick Rolls, Creative Director at Universal

To coincide with the launch of Volvo's latest SUV, we collaborated with AKQA on the design of a launch space in Milan. Using AKQA's overarching concept around scale as inspiration, we sought to bring these ideas to life as visitors journeyed through the space.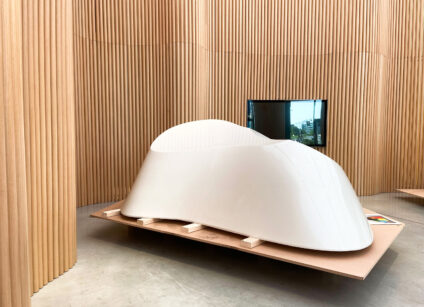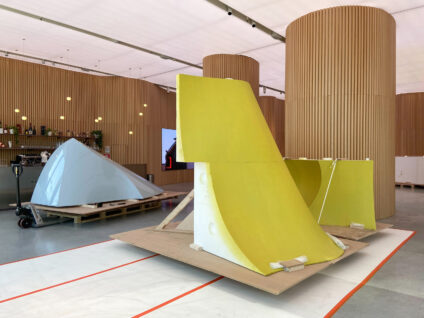 Taking key design features such as the steering wheel or redesigned car seat, the team extracted these to become huge architectural elements that define the interior of the space, creating a landscape for exploration - akin to the EX30. These supersized elements are immediately identifiable but force visitors' perception of form and scale within the space.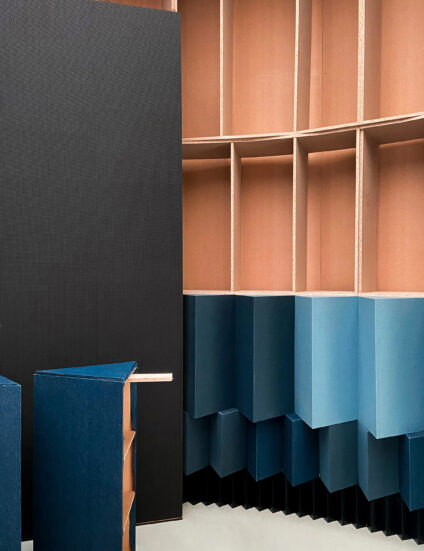 Each of these supersized elements has its own function, from a tyre track that plays host as a display for the XC version of the EX30 and showcases the vehicle and partner products in lifestyle context, to a steering wheel that takes shape as a huge arch to frame the space. Elsewhere, a blown-up car seat houses the audience for the keynote speech.
Organised around these large elements are four immersive environments that tell the story of Volvo's material journey. These artful interpretations show off the circular approach to materiality. From 'Breeze' which highlights the innovative use of recycled PET into a 3D knit textile, to the 'Indigo' space which showcases a material formed from recycled polyester and denim. A further move to extend the life of the exhibit, it has been designed to pack up and travel to new locations around the globe.
Lastly, the Volvo Studio acts as a secondary events space created by a series of abstract geometric forms that are reminiscent of landscapes found within a single charge radius of Gothenburg, the home of Volvo. The colour for these landscapes showcases the various colour options for the EX30 vehicles. In another nod to scale, these forms feature miniature vehicles that speak to the EX30 being Volvo's most compact SUV to date.