An award-winning hotel redefines a landmark building in the heart of Copenhagen
Our second hotel for Nordic Choice, located in the Danish capital's former Central Post Office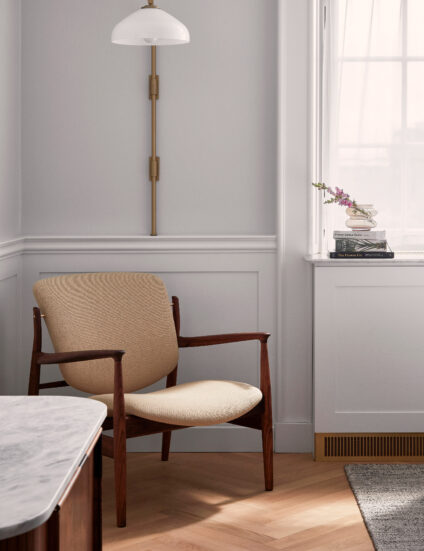 "Our vision is to complete a hotel that is unashamedly beautiful, feels good to be in, delights in its historic context, but which is also built for now and the future." — Universal Design Studio in the Villa Journal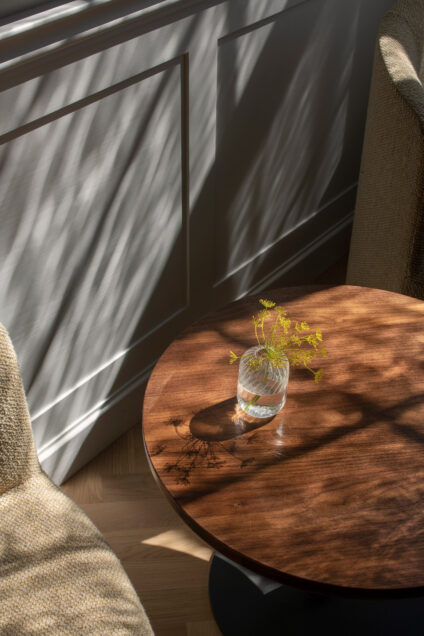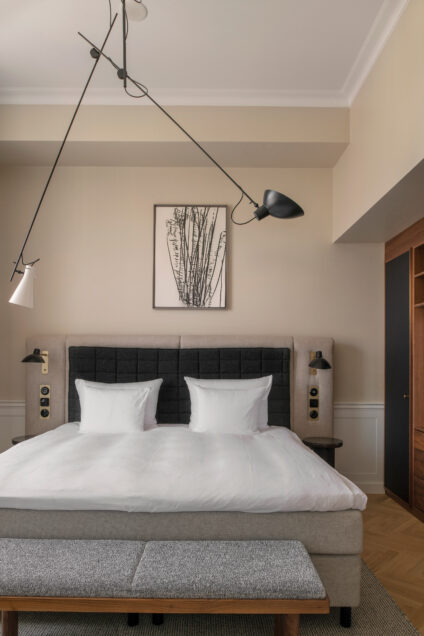 Designed as a place for quiet luxury, the rooms at Villa have been crafted to provide a moment of escape and slowing down, a connection to the beauty of Copenhagen and a celebration of Danish design.
Uniquely situated between the areas of Vesterbro and Fredriksburg, with its young and design-influenced crowd, as well as the historic and smart city-centre, the brief called for designs well suited for both leisure and business travellers, locals and guests.
Our approach was to create the antithesis of a staged heritage interior, rooms that feel contemporary but right in that building. Softly layering up elements from the building's history, context and the warmth of Danish design. We compared this to the feeling of an apartment converted from a grand residence; contemporary, uncluttered and calming.
Surprisingly based on the exterior, no original features inside the guestrooms remained. These were removed in the 1960's and 1970s as a functioning office of the Danish post service. The design process began by mapping the building's interior and carefully choosing what to restore or reinstall; original period features such as grand window surrounds, timber panelling, cornices, flooring and architraves.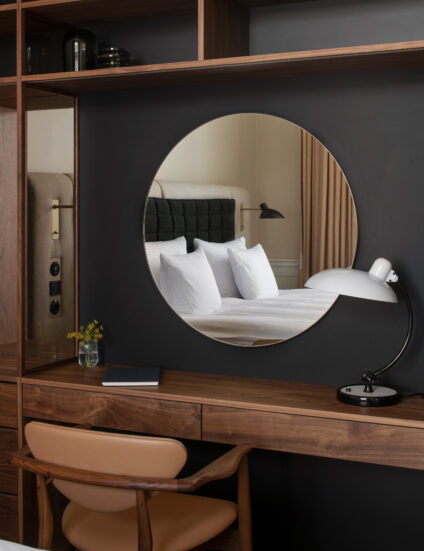 Our remit specifically focussed on the hotel's guestrooms and the public areas connecting these. Unusually, Villa Copenhagen comprised many different room types, from 4-metre high ceilings on the lower floors, featuring equally high windows, to attic rooms with roof-lights and exposed timber beams. Some rooms had single windows whilst others had three or four. In each room type we sought to respond to each as if an individual, always aimed at emphasising their original character. The design reflects this, which is rather unusual for such a large hotel. There's a wealth of different room types and tones.
The other part of the project lay in creating a link between these different rooms and spaces––a design for the house or residence that unfolds as a journey. We refurbished grand staircases, waiting areas and hallways to create this sense of passing through a grand residence, and provide changes of richness, tone and natural orientation.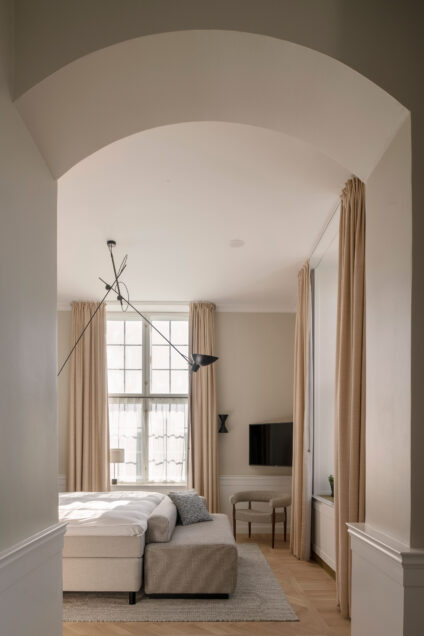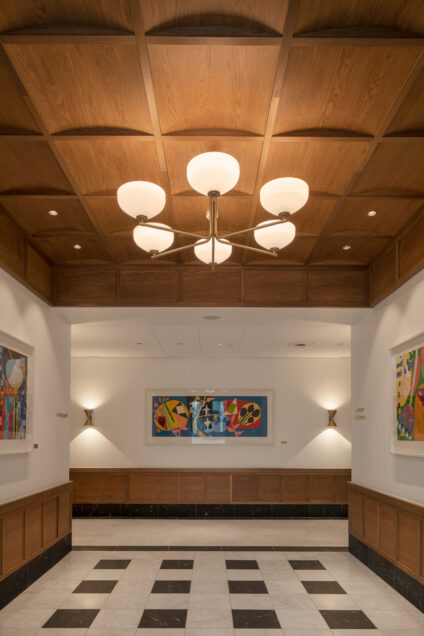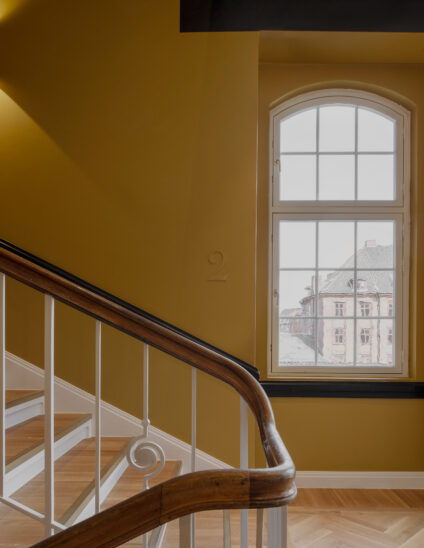 Copenhagen has a beautiful quality of light that we were keen to express. A soft palette of sludgy grey-green, dark brick-red and ochre colours, inspired by the paintings of Wilhelm Hammershøi was used to extend this light into the rooms. Marble sills and brass details reflect light, and an internal window of textured glass brings natural light into the bathrooms. Layouts are arranged to give places for connection to light and views, as much a place to work as to dine or relax.
Inspired by archive photography from the former post office, a suite of pendant, wall-mounted lamps and table lights were designed exclusively for the project. Crafted in opal glass, brass, bronze, brushed ash and linen, by Flos in Italy.
Further custom pieces including oversized linen bedheads, upholstered benches, oiled walnut desks, open wardrobes and marble credenzas are layered with classic designs from a roll-call of renowned Danish names. Pieces by Finn Juhl, Ole Wanscler, Nanna Ditzel and Borge Morgenson are given space alongside contemporary designers such as Nick Ross, Andreas Engesvik and Jasper Morrison, often in custom colourways developed with Sahco and Kvadrat. Curated by Sune Nordgren, a unique one-off hand drawing in charcoal, by Berlin-based Norwegian artist Bente Stokke features in every room.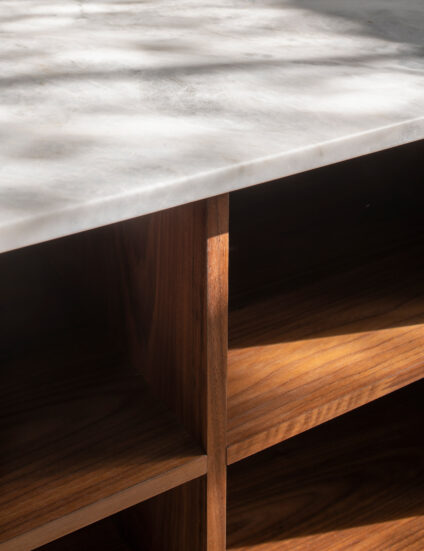 As a long-term approach to sustainability, materials were selected to wear-in and not wear-out, and importantly, things can be repaired as they age. Linen, silk, European marble, oak, walnut, painted timber, glass and raw brass were chosen to develop a rich patina over time. Bathrooms feature axor fittings, zellige and nero marquina tiles.
Micro-stories of locality, supporting local industry, were weaved throughout. As an example, the desk chairs are made to a little known classic Danish design from 1959 by one small family-owned cabinet makers, made using German-oak and contemporary Danish fabrics, made in a factory just three hours drive from Copenhagen.