A flexible workspace responding to its local context and a historic building
Our first major project for The Office Group, the leading workspace provider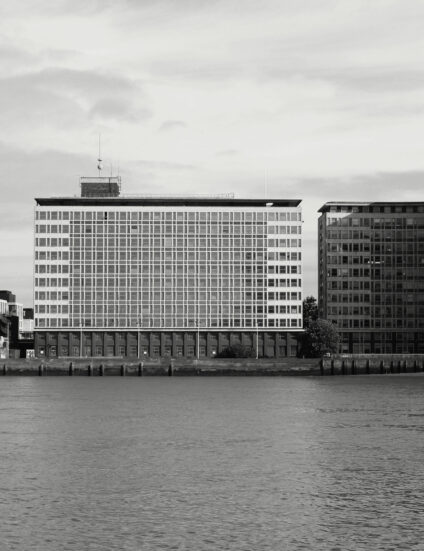 Universal Design Studio took charge of the interiors and was inspired by the Tintagel's 'secret life' as the police HQ. Materials such as brushed stainless steel were chosen in reference to the building's history of innovation – particularly its role as the home of the first-ever police computer. — The Spaces

Tintagel House, located on Albert Embankment in South London's Vauxhall, was built in 1960 and occupied by the Metropolitan Police for half a century. Taken over by The Office Group in 2016, we were selected to oversee the refurbishment for the flexible workspace provider which was completed in 2018. The surrounding area has changed dramatically over the past decade, sitting adjacent to the ambitious Nine Elms development.
To undertake the project, we worked alongside architects Stanton Williams with whom we were jointly charged to revitalise the significant structure. To form a deeper connection between exterior and interior, we took reference from the alternating square and rectangle grid of the existing facade in creating interior layouts. Additionally we used it to punctuate and create connections in the shared spaces, such as the circular void that connects the public ground level and the private co-working spaces on the level above.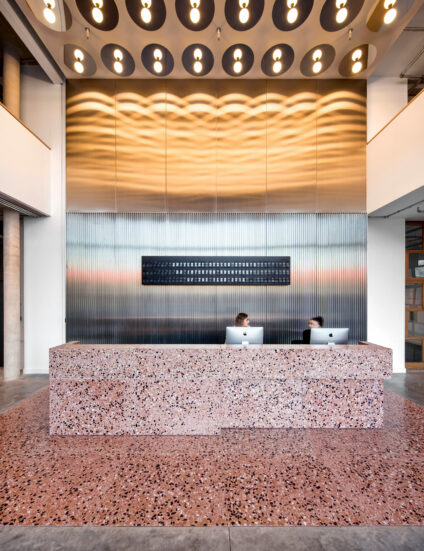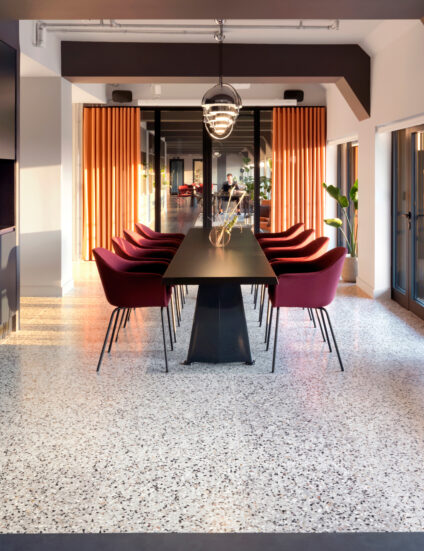 One of the biggest challenges we faced was in transforming the ground level spaces that were hidden behind a seemingly closed-looking facade, set back behind a driveway and creating a disconnect between the street and the entrance.
We wanted to create an engaging and open public space that reached out to the street and linked through to the waterfront of the Thames. This focus on openness resulted in an accessible hybrid ground level that is relevant to TOG's community of co-working members, as well as the surrounding working community.
The driver for the design of these spaces was the desire to generate opportunities for people to meet and connect. By overlaying references from hospitality, culture, commerce and workspace all under one roof, we created a rich and varied range of spaces that push the boundaries of what a workspace can and should be. The ecosystem at Tintagel House can support the needs and desires of the nomadic worker in the broadest sense.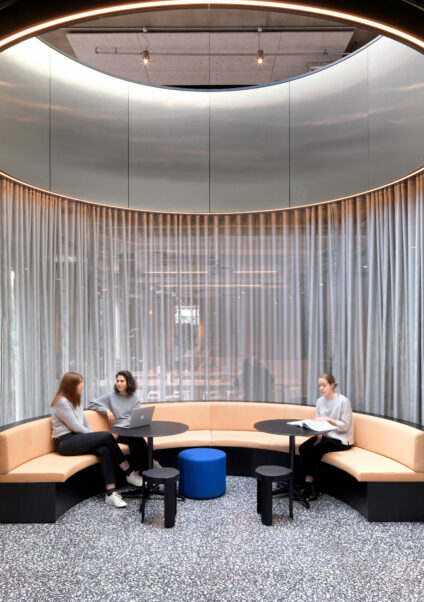 To help reduce waste, we were able to reuse some finishes from the existing building such as the original timber parquet flooring and terrazzo used throughout the office floors and lobbies. The newly introduced materials were selected for their robustness and relationship to the existing context. Concrete, timber and terrazzo finishes to the walls, floors and fixed joinery provide a contrast to the building architecture and are intended to last for many years, avoiding the need to replace and update in the short term, wearing-in rather than wearing-out.
The roof level previously accommodated plant equipment, which was stripped out and relocated to the basement. This freed up the space and gave members access to the exceptional views of the River Thames and city skyline. This floor now houses a member's lounge and an apartment, for members to rent as a special meeting space or for overnight stays.
As a new hub for entrepreneurs and independent businesses, our hope is that Tintagel House will generate further diversity in the area and contribute to the energy and activity of this revived neighbourhood.