Intersecting wellness and hospitality
High-performance and aesthetically-considered fitness spaces enliven a neighbourhood gym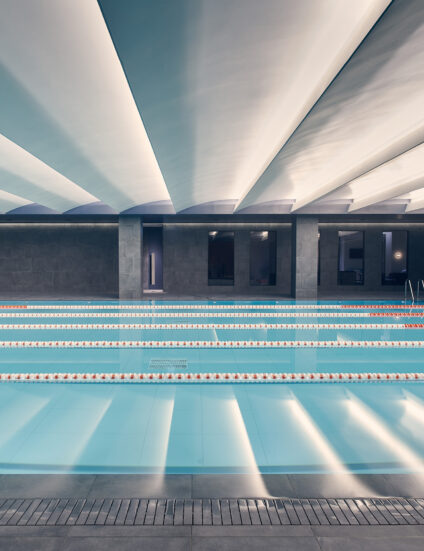 Designed with local neighbourhood families and gym-goers in mind, Universal conceived Third Space Islington to encompass a number of high-performance, aesthetically-considered spaces, from a light-filled sculptured ceiling suspended over the swimming pool to the spa-like premium changing room environments.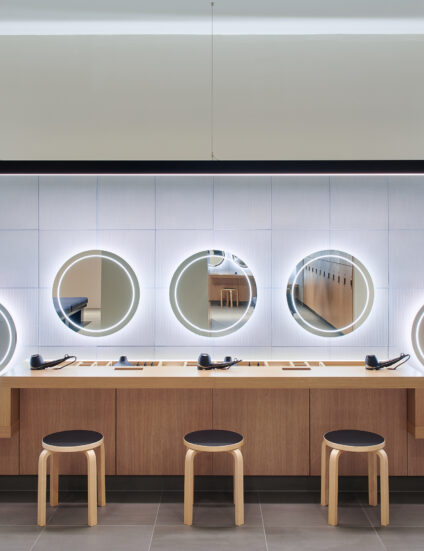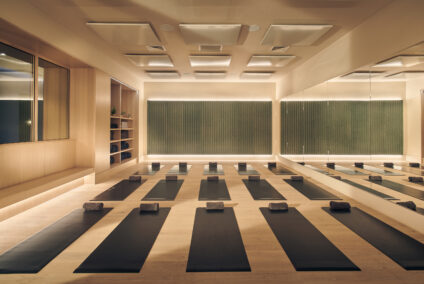 The club is planned as a series of subterranean courtyards, illuminated by natural and imitation light wells and enhanced by an elegant material palette to evoke a spacious and sophisticated ambience.
To complement the prominence of light and to create an inviting, family-friendly feel to the reception and lounge areas, Universal specified a soft, warm colour palette punctuated by a terrazzo and tiled reception desk set against a deep plum wall on entry. Ketley brick flooring references the gardens and courtyards of the immediate locale, while timber and brass details add warmth to the space.
The member lounge spaces incorporate dimly lit, darkened 'quiet rooms', specially designed as a bookable spaces for adult members to work or relax in, technologically-enhanced with guided meditation sessions. The changing rooms subvert an expected functional aesthetic, instead referencing the style of a boutique hotel and spa. Fitted with a natural material palette of marble, brass and stone, the changing rooms feature thoughtful fixtures for club members, such as oversized bespoke mirrors, and inset recesses for products to sit within vanity units.
The pool cloister, featuring a central 20 metre swimming pool, is set within a dark, monolithic tiled space with an architecturally-sculptured undulating ceiling of light to mimic the natural ripples of the water beneath. Navy coloured tiles are featured across both the performance pool and separate family swimming pool area, with oversized circular light wells above the family pool. An adjoining spa area, walled with apricot-coloured handmade profiled tiles, encompasses a secluded Red Cedar Sauna, marbled ceramic steam room and hydrotherapy pool, to enhance relaxation and focus.
In the Mind & Body studios Universal has created a sensorial experience of comfort and enclosure in an elegant, light-filled setting. Fitted with acoustic treatments, the studio walls are covered with recycled corrugated panels and floor-to-ceiling ombre mirrors, with solid oak floors and interactive mood lighting in a space designed for wellness and relaxation.
Third Space Islington – in a first for the club – incorporates a dedicated family fitness zone called Little Space, created especially for younger members. Designed to encourage play and fitness, with a fully-programmed timetable of activities, an athletics rig, adventure area and a crèche, Little Space caters for both families and children up to age 11. The exclusive area benefits from a separate café and lounge area; an extension of the main club, portraying a fresh and light aesthetic with durability in mind.