Defining flagship retail for a new global fashion leader
Working with Stella McCartney on her first retail outposts in London and New York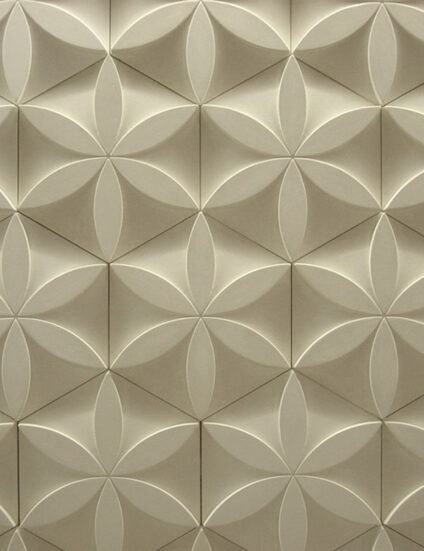 Stella McCartney's retail spaces were the first significant projects undertaken by our studio following its launch in 2001. McCartney, who had launched her eponymous fashion label in the same year, commissioned us to design the brand's flagship retail spaces in New York and London. A rigorous approach was taken to creating bespoke design elements for the retail spaces, including a three-dimensional tile design by Edward Barber and Jay Osgerby inspired by the hexagon—nature's building block. The tile became a signature feature of McCartney's flagship stores, with the layering of a petal motif over the hexagon was conceived as a more literal reference to the abstracted landscape theme. The pattern also offers a third visual layer, with the petals abstracting to circles when viewed from a distance.
The first of several stores that we worked on for the brand was a converted warehouse in New York's Meatpacking district. Here, our brief was to create a relaxed environment with an 'air of nature', where customers would be free to explore and discover the brand's creations. In response, we created an 'abstracted landscape' informed by Stella's desire to display her collections in an environment which provided a respite from the city. The notion of 'the landscape' was realised in a series of elements of differing scales including the contours and levels of the floors and hanging screens evocative of long grass. These formed a terrain for customers to casually explore.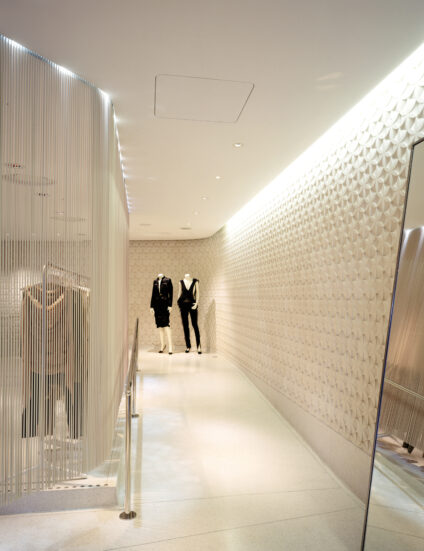 For McCartney's London Flagship we extensively remodelled a Grade II listed Georgian townhouse on Bruton Street, introducing bold interventions into the former art gallery space. The scheme created an 11,000-square-foot UK headquarters for the company, 5,700-square-feet of which was to be front-of-house retail. Building on the 'nature abstracted' theme of the New York store, we took key structural elements such as the skylight and the 'jack' arches at the rear and re-introduced them in a modern context by placing more emphasis on them. In other areas the fabric and the finishes were restored and further complemented by themes of nature and landscape expressed in bespoke fittings and numerous handcrafted materials, such as the same three-dimensional tiles that we had used in the New York store, and elements made from limestone, polished black granite, smoked ash, structural glass and brushed stainless steel.
The retail areas, designed to create a relaxed and inviting environment, include a perfume room, bespoke tailoring service, dedicated VIP area and garden. A monumental marquetry wall runs the length of the main retail space, incorporating a fairy-tale scene designed by Stella. Contemporary furniture and fittings designed for the scheme are juxtaposed with hand-made wallpaper and hand-printed fabric walls, creating a varied and highly personal approach to the interior.