Experimenting with materiality and form
Fruit of the Loom's retail pop-ups in London and Berlin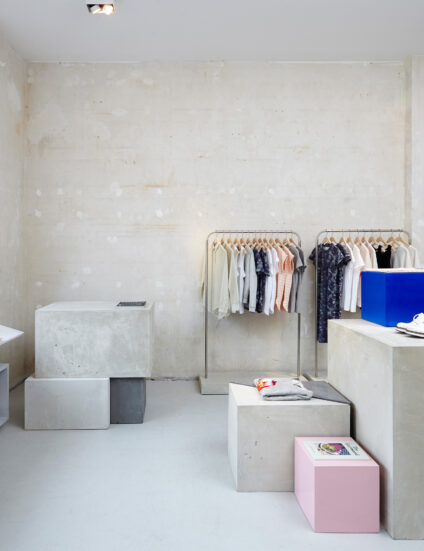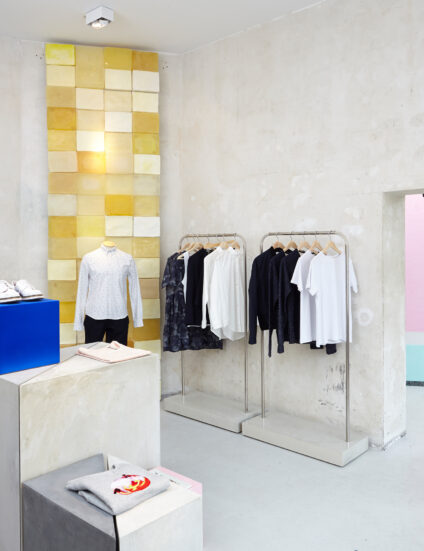 Seek No Further was developed as a new premium label from classic American sportswear brand, Fruit of the Loom. It built on its parent company's 150-year history, bringing a sophisticated edge to Fruit of the Loom's craftsmanship and fabric expertise with a contemporary design ethos. Designed by Dorothée Loermann, formerly at cult Parisian fashion brand Surface to Air, the London-based label's first capsule collection launched in 2014, and we were chosen to complete pop-up stores in London and Berlin to showcase the designs.
The interiors reflected the brand's interest in innovative materials and attention to detail with the emphasis on the process of making. We collaborated with London-based artisans and technicians and experimented with a range of materials such as glass wax, flock coating, silicone and cast jesmonite (a gypsum-based material in an acrylic resin) to create a distinct palette that would capture the playfulness and energy of the new brand. The store environments featured handcrafted sculptural display pieces that were juxtaposed with the raw walls of the architectural shell.
Both featured local artists' installations, commissioned especially for the stores. The set designer Gary Card was responsible for the window display in the East London store, in Redchurch Street, Shoreditch. Artist, illustrator and designer, Sarah Illenberger, created a series of large-scale foam sculptures for the store in Berlin's Mitte district.