Spaces to elevate a brand's identity
Rimowa Berlin juxtaposes functional luxury with deconstructed journeys and marks a milestone for the brand's evolution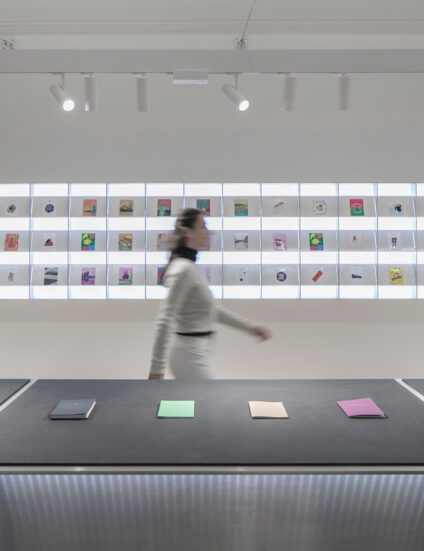 Located on Kurfürstendamm, Berlin's most famous shopping street, this store marked an important milestone for Rimowa's evolution since its founding in Cologne in 1898 and acquisition by LVMH in 2016. As the first Rimowa boutique in Berlin, the design introduced the brand in a new context, carefully weaving the city's strong identity with Rimowa's hallmark functional luxury and history.
We were appointed to design the Berlin boutique shortly after Rimowa had launched a campaign film titled 'Never Still' by advertising agency Anomaly. The film was powerful and unapologetic and it became a blueprint for our store design - we wanted to instil the same strength and energy into our design, and express Rimowa's commitment to quality and longevity.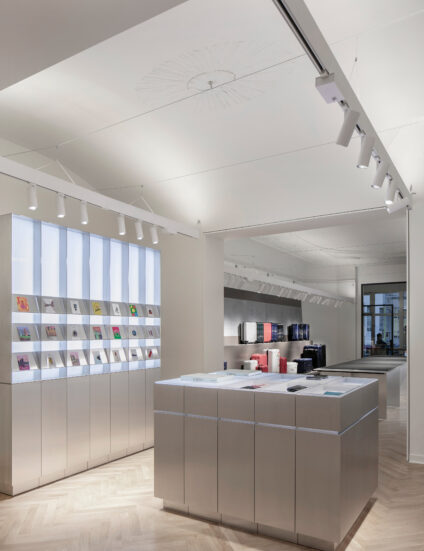 We took a gallery-style approach to the 220-square-metre store, leaving aspects of the existing structural fabric untouched while inserting fixtures to act as free-standing sculptures. The concept was to deconstruct the moments a suitcase is with you throughout a journey—a composition of abstract material vignettes that create textural backdrops and transfer segments of Berlin's urban landscape into the store.

The rigorous aluminium furniture, sharp-edged yet silky in sheen, references the brand's signature material and love of detail. Perfectly fitted rubber and leather pads make the movement of the suitcases silent and sophisticated, while all fixture dimensions are based on a meticulous analysis of product proportions. The same thickness of aluminium sheet was used on fixtures throughout the store, adding to a sense of continuity and rigour.
With evolution in mind, all product display stands are modular and adaptable, and will be able to host new ranges of product as well as future events and programming. The smart, contemporary space demonstrates why the brand continues to remain relevant and provides an opportunity for new and valued customers to gain a first-hand understanding of the brand's core premise: a relentless commitment to creating essential tools for purposeful travellers.