Taking inspiration from Michelin starred dining to craft a space fit for an art gallery
Julien Royer's French fine dining destination housed within Singapore's National Gallery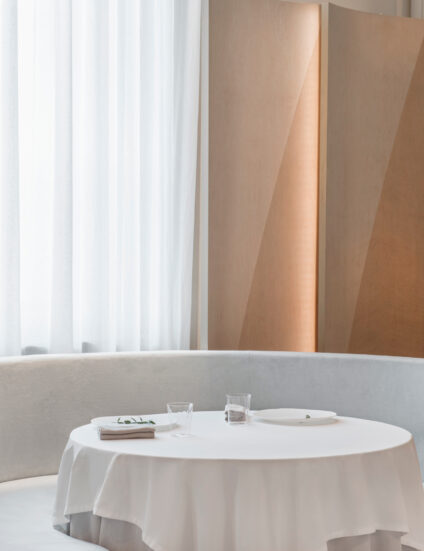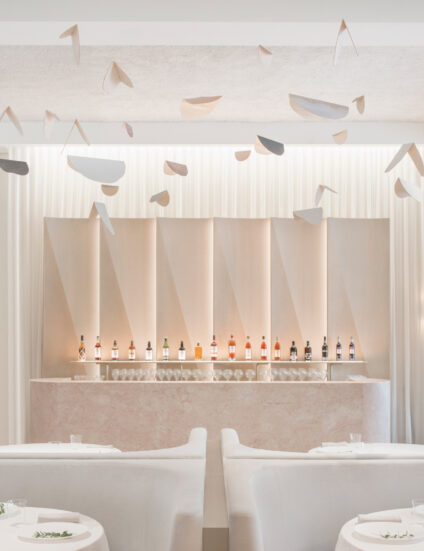 Given its cultural context, we wanted to design a space that could be perceived as an art piece in itself, approaching it with a mind to honour the integrity of chef Julien Royer's dishes, which are delicate, refined and elegant. The chef's process was central to our approach and we sought to mirror the way in which simple ingredients are transformed into distinguished dishes through a juxtaposition of texture, colour and taste. This celebration of craft is demonstrated through the use of natural, raw elements presented in a soft colour palette of natural timber and pink terrazzo marble, with nickel and brass accents.
Given the historic location inside the National Gallery, a colonial-era, classical building, formerly the Supreme Court House of Singapore, we sought to respect the context by referencing the gallery's original Corinthian columns with faceted columns, and the striking floor of the gallery lobby through the use of Palladiana marble in the restaurant.
In a continuation of this take on Royer's craft, we fronted the kitchen with glass doors, allowing diners to see the chefs preparing meals. And in a collaboration with Singaporean artist Dawn Ng, we created an aerial installation that magnifies then deconstructs imagery of Royer's work into abstractions to highlight the textures, colours and beauty of his ingredients. These images were transferred onto materials like oak, polyfoam, brass and paper, shaped and folded into sculpture, then balanced as a surreal sea of abstract, floating shapes swept into flight.