Exploring brand heritage through finely crafted, bespoke design
J&M Davidson's store in Mayfair represents the core values of the ready-to-wear label's committment to craftmanship, quality and attention to detail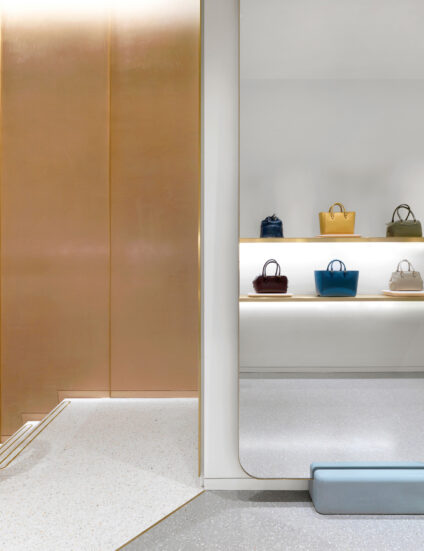 J&M Davidson was founded in 1984 by design duo John and Monique Davidson. The brand carved out a niche for itself producing handcrafted leather accessories, but when we came to work with the label 30 years later on the design of its new store in Mayfair, it had grown in both reputation and size. At that point its output encompassed handbags, small leather goods, clothing and knitwear, however its commitment to craftsmanship, quality and attention to detail remained the same.

Our design for J&M Davidson's Mayfair store echoed the brand's commitment to quality. Located in a Grade II listed, late Gothic-style building completed at the end of the 19th Century, we wanted the store's interior to have a unique dialogue with its architecture.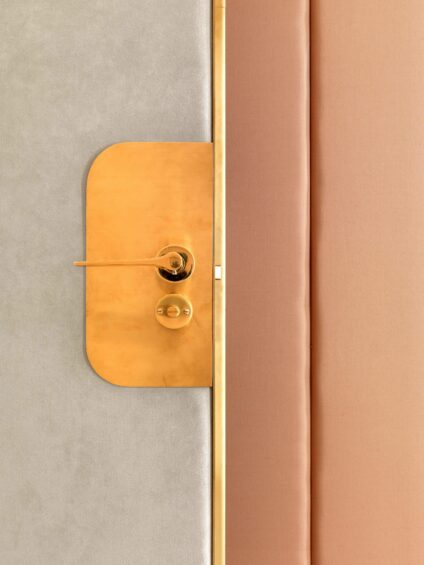 The focal point of the store is a cantilevered staircase made from solid terrazzo marble with a leather-wrapped handrail by Bill Amberg Studio. Inviting guests to discover the lower floor, the ornament of the balustrade is carefully formed to act as a structural component for the stacked staircase.
A dried flower installation by floral artist Rebecca Louise Law that is suspended under the ground floor ceiling references the public garden that is located at the rear of the store. This is complemented by an opaque glass screen that is positioned over the existing windows, enhancing daylight and bringing the atmosphere of the garden into the store.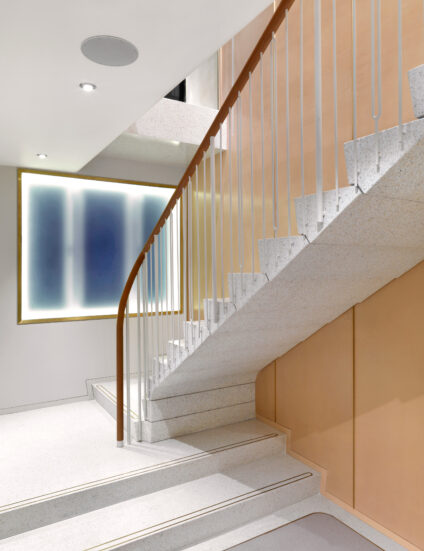 The plasterwork of the interior wall references the building's pink terracotta masonry. Elsewhere, the soft ornaments of the façade were 3D scanned and translated into bespoke display plinths handmade from slip-cast terracotta and pigmented cast-glass. This complex digital fabrication process was carried out in collaboration with the UK-based architectural workshop and research facility, Grymsdyke Farm.
Terrazzo flooring is used throughout the store and paired with cast-concrete counter tops. Luxurious fabrics and soft-edged details are carefully selected to complement vintage furniture pieces sourced by interior designer Nicholas Chandor.