Blurring the boundaries between workspace and exhibition
Using design and architecture as drivers to experience IBM Watson IoT and story tell its capabilities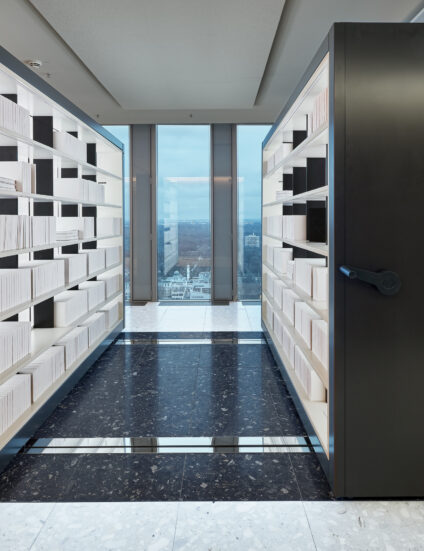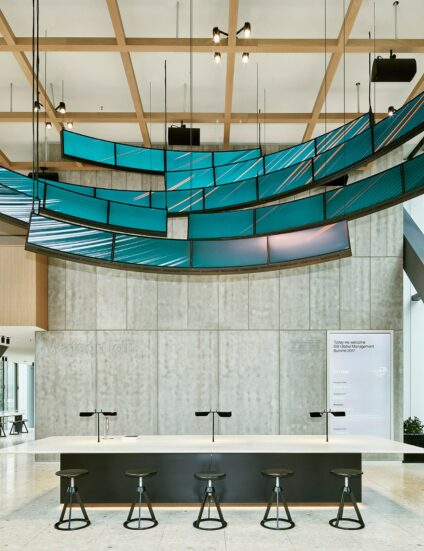 IBM has a long history of commissioning pioneering designers and architects to create physical spaces and environments that represent its services and products. In 1956 legendary American graphic designer Paul Rand created its logo; Charles Eames and Eero Saarinen Associates designed its pavilion for the 1964 NY World's Fair; and in the same year Japanese-American artist and landscape architect Isamu Noguchi designed the gardens for its headquarters in Armonk, NY.
In 2016, along with our sister studio Map Project Office, we were invited to create a new global headquarters to showcase the technologies of IBM Watson Internet of Things (IoT)—a managed, cloud-hosted service designed to make it simple to derive value from your IoT devices. Located in the Highlight Towers in Munich, an investment of over $200M was made into the Centre, housing over 1,000 IBM employees, shared laboratories with IBM clients and client experience zones.The space was envisaged to be utilised by companies seeking to transform their business operations by using a combination of Watson cognitive technologies and IoT.
With this in mind, the creative team developed a new design language to represent IBM Watson IoT and an approach to explaining the complex nature of cognitive computing and the Internet of Things, using physical installations and experiments rather than the overuse of screens.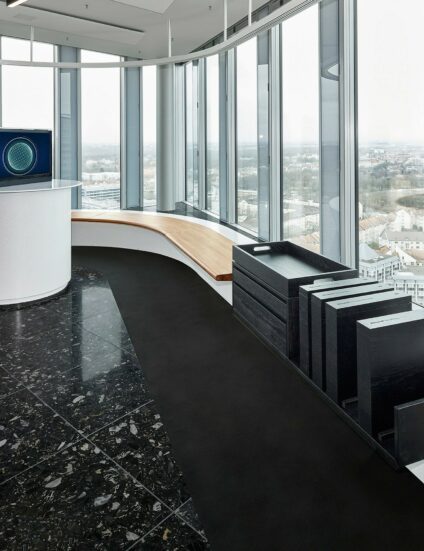 Working closely with the IBM team and Map, we transformed the ground floor lobby and 20th floor of Highlight Towers in Munich, originally designed by Murphy/Jahn Architects in 2004. Our design approach was to make tangible what cognitive computing data and IoT is, making the product and its narrative accessible to the end-consumer.
Designed to embody the new IBM, the lobby is a dynamic gathering place, merging reception, work and social spaces with a consumer-friendly focus. A large communal table serves as a reception desk and forms a focus for visitors entering the centre. It contains digital displays that showcase IBM apps and a built-in espresso machine. Around the perimeter of the Lobby, tables topped with glass vitrines contain Watson IoT stories to entertain and educate visitors with examples of how IBM's cognitive IoT can influence and improve their everyday lives.
A large-scale interactive art installation hanging from the ceiling is intended to highlight the often overlooked beauty of data. Designed by Berlin-based digital art studio Onformative and titled 'Flux', the piece represents the scale, influence, importance and explosive growth of IoT. Its composition is made up of seven strips of curved LED monitors that visualise cognitive computer technology using live streams of data.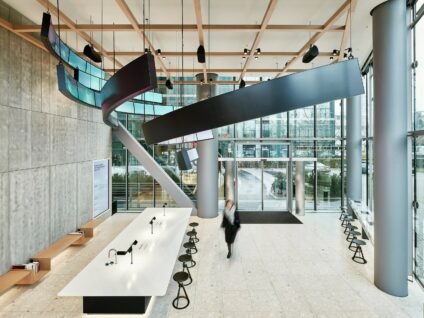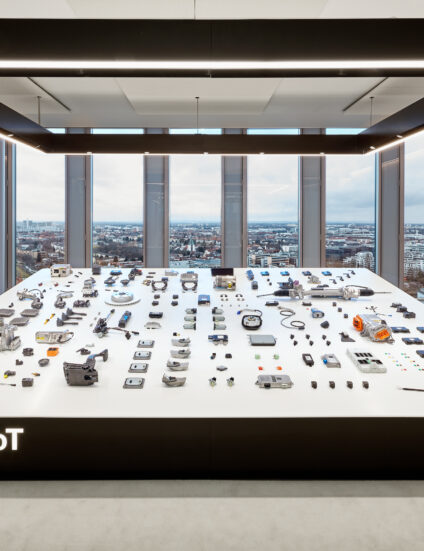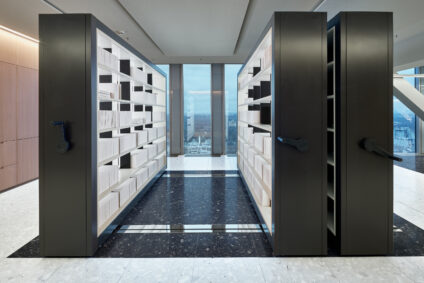 The 20th Floor is a collaborative space for moderated client experiences and where physical installations and embedded technology explain cognitive computing and IoT.

A movable, custom-built archive unit made up of three bookcases sits at its centre. The unit stores several hundred books printed with actual data from the sensors in a BMW i8 captured over a period of just 60 seconds. Digital displays embedded in the back of each bookcase show visualisations of the data streams that are contained within the books before transitioning to a video taken from the car itself. The bookshelf and its digital display are used to represent the scale of data that the Internet of Things produces. This quantity of data can only be interpreted using cognitive technology like that offered by the IBM Watson IoT platform.
Instead of a traditional reception desk, visitors are welcomed to the 20th floor by a large-scale installation, which is intended to make the IoT phenomenon relatable at a human scale. Hundreds of devices are arranged on a sizable, angled plinth in the centre of the room. These devices comprise the sensors and actuators from a BMW i8 car—the same model that is used to drive visitors to the centre from Munich airport. The installation makes visible the 'things' from the Internet of Things, and emphasises the point that billions of devices are connected to the internet, producing huge amounts of data. Using a smartphone or tablet with an augmented reality app, visitors can interrogate the devices and view real data streams.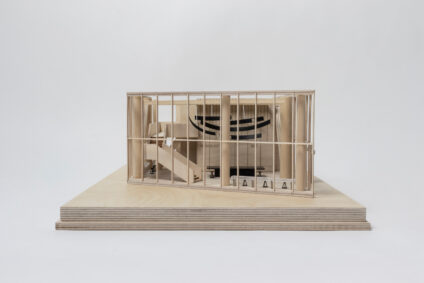 "IBM has an amazing history of working with designers like Charles and Ray Eames in the 1950s and 60s to help communicate complex technological concepts to the wider world, it's a privilege to be part of that journey." —Jason Holley, Principal Director, Universal Design Studio