The first out-of-lab quantum computer
IBM unveils Quantum System One at world renowned medical research facility, the Cleveland Clinic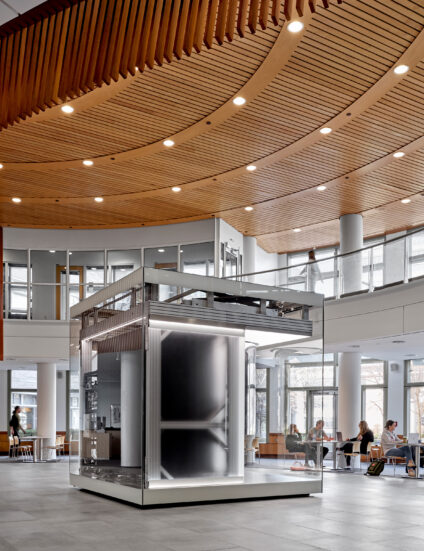 The installation marks a milestone for IBM and Quantum research as System One is the first out-of-lab commercial quantum computer dedicated to healthcare research.
Alongside our sister studio Map Project Office, were asked to update the CMF strategy whilst retaining the iconic, recognisable elements of the original design. New elements include lighter finishes that suit the day-lit space and a combination of translucent and transparent materials that reveal some of the inner structure and components. The resulting installation reminds us of the lab environment where the system originated and visibly demonstrates that it is a complete and fully functioning system. Previously, generations of quantum computers saw components dispersed around a lab, in IBM Q System One all components fit inside a compact footprint which was a major step forward in the commercialisation of quantum computing at the time of its inception.

The installation at the Cleveland Clinic will advance biomedical research across clinical and pharmaceutical needs. As designers, our intention is to always harness the power of creativity to solve problems and so it's a great moment to see how IBM System One will be able to assist in the complexities surrounding the advancement of biomedical research.