New archetypes for hospitality in cultural contexts
Creating a space for hospitality at the Luo Hong Art Museum in Beijing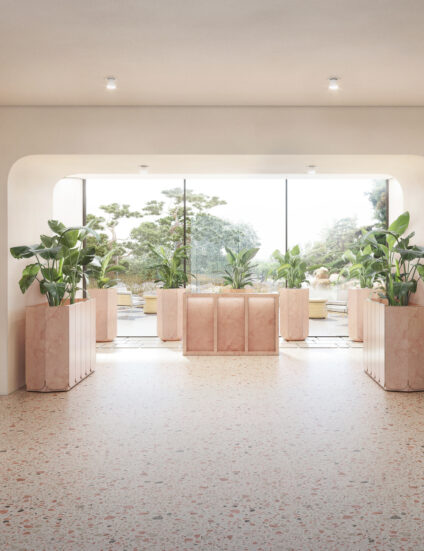 Commissioned by Luo Hong, founder and CEO of Holiland, Universal's design centres on three distinct yet cohesive destinations within the gallery: a combined Holiland cafe and retail space, a patisserie and bistro for Holiland's upscale counterpart, Black Swan, and a florist. An additional outdoor terrace connects the cafe and bistro.
Interiors that were rooted in classical Italian design, and more broadly European design accents. Neoclassical motifs with a contemporary edge punctuate the space. Archways and colonnades are a consistent theme in the Holiland area whilst bespoke 3D artwork in the Black Swan bistro draws inspiration from the Pantheon and Palazzo del Quirinale. The rich material palette of marbles and stone further reinforces the classical feel, enlivened with glass and metallic accents for a contemporary edge.

Given the Eurocentric brief, Universal has taken the opportunity to collaborate with European makers, forming a design language akin to its previous work for Holiland. Specially commissioned details include marble resin artwork, designed by Universal and crafted by Italian manufacturing consultancy Matter of Stuff, and bespoke terrazzo flooring by Spanish tile manufacturers Huguet.
The past eighteen years has seen Holiland prosper into a staple of daily life in China with more than 1000 bakeries in 70 cities. Conveying this reassuring, everyday presence was an integral element in Hong's brief, as was the need for three separate establishments that felt connected and integrated. Universal opted for an overarching theme of soft pink hues and ambient lighting, whilst terrazzo flooring that connects all spaces acts as a consistent red thread. The result is an inviting, spacious setting that encourages visitors to linger within the museum.