Heightening brand expression through facade design
A programme to create cutting edge architecture for the exteriors of H&M's flagship stores globally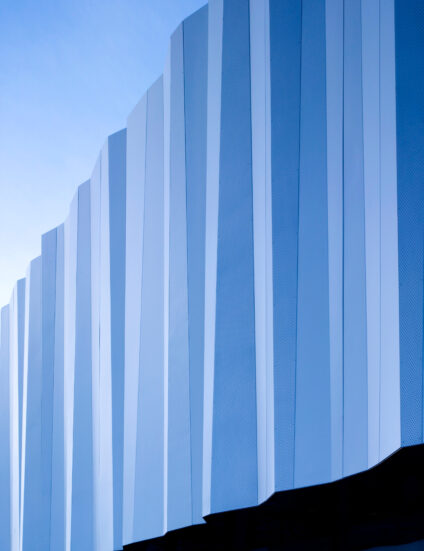 A global leader in high-street fashion retail, H&M has an extensive network of stores across the world. Given the vast array of locations and building typologies, H&M wanted to find a way to unify these stores through their architecture. Focussing on flagship locations, we were commissioned to create a visual language for the façades of selected stores, redesigning them as recognisable landmarks in their local areas while also creating a synergy between H&M flagships in different locations.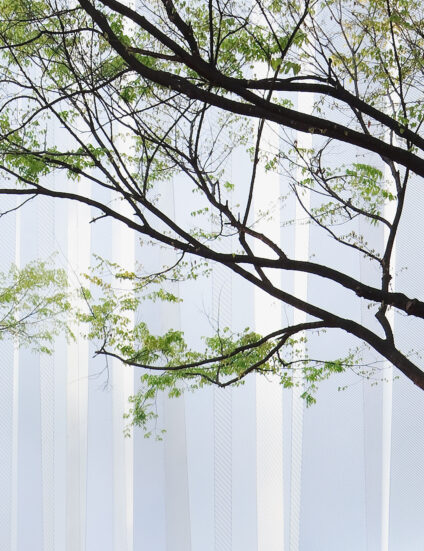 "Universal Design Studio's rolling project with H&M is an example of their ability to tailor solutions to individual sites whilst still creating engaging spaces and brand continuity." —Dezeen on H&M Seoul, 2010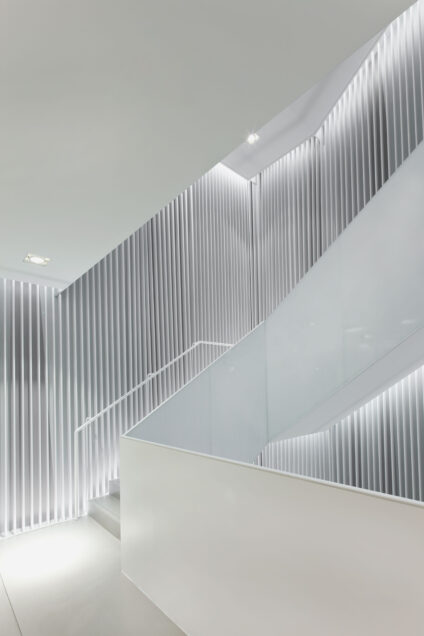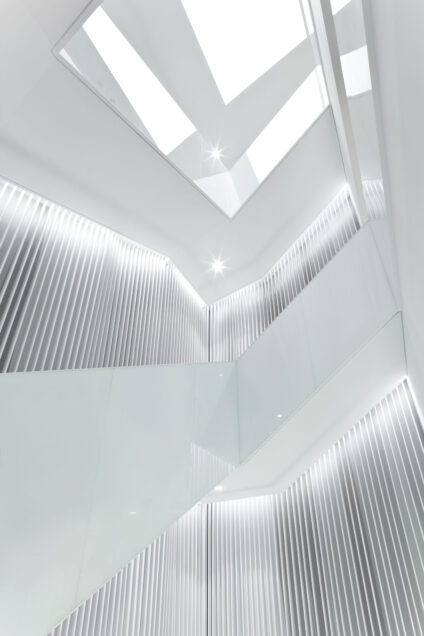 Our remit began with a brief to design a large five storey façade for H&M's flagship in Hong Kong. Created in 2017, we felt that the design should reflect what H&M is about—fashion, fabric and clothing. For the basis of both the exterior façades, and later the interiors, we developed a rigid geometric pattern that, although seemingly random and unstructured, can be repeated in numerous combinations and translated into various materials and mediums. The sculptural relief creates an effect that softens the hard, dominant lines of the existing building structure, and the façade comes alive at night when concealed illumination turns the store into a dramatically lit beacon. The resulting design was reminiscent of a simple pleated fabric.
Hong Kong, being equatorial, loses daylight early in the evening all year round, which coincides with the city's after-work, peak shopping time. So that the façade would not be lost in the twilight, we worked on a series of backlit perforations. This helped to draw attention to the façade and also accentuated the folded nature of the aluminium.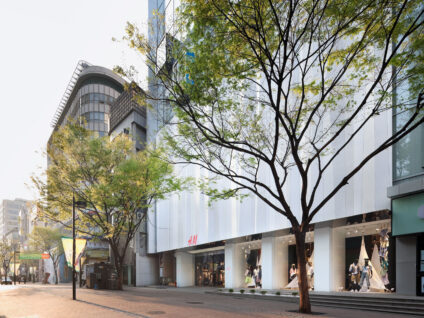 Following a shift in focus for the brand, our design ended up being applied to the Sunset Boulevard store in Los Angeles rather than the Hong Kong flagship it was originally intended for. To utilise the same perforated pleated design in this new location, we adjusted its scale but the cladding was implemented as we had originally envisioned.
We continued working with H&M and completed a number of façade projects for their flagships in new markets, including projects in Tokyo, Osaka, Seoul & Singapore. Our understanding of scale, structure and form enabled the design to be applied to any store around the world, maintaining brand consistency, whilst offering the versatility to accentuate the individual identity of each site.
For the interiors, we also included a dramatic concept staircase made from white glass and lined with vertical louvres (shutters with horizontal slats). Adopting the same lighting and contrast techniques as the façade, we created a dynamic environment that engages customers to guide them through the store.