Rethinking the archetypes of financial institutions for a new era
A new HQ for Copper, a leading digital asset technology company dedicated to helping institutional investors safely acquire, trade and store crypto assets.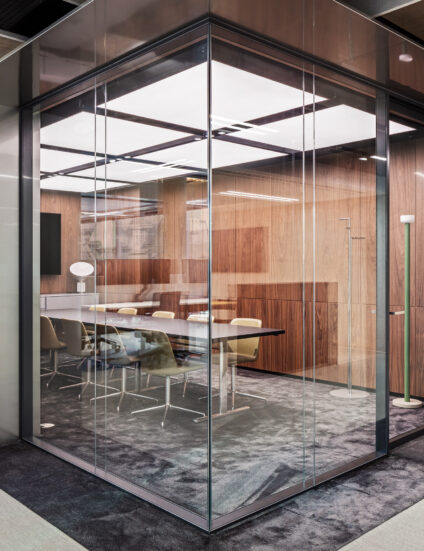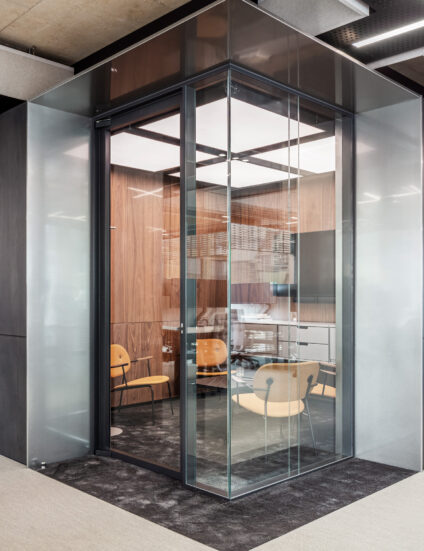 Our team sought to create interiors that matched Copper's role as an innovator in the field of crypto infrastructure. As such the team unpacked the design and architectural components that traditionally allude to financial institutions, rethinking aged-banking archetypes to create a space fit for a business pushing the sector towards a new future. Beyond workspace areas, the building now features a member's club, mezzanine events space and a dramatic 'Copper curtain', designed in collaboration with Speirs Major, animating the exterior of the building - a contemporary sign-post for this new exciting player in the financial sector. In a breakaway from typical locations for finance and banking, Copper's new home is located in Broadwick House in Soho, an iconic Richard Rogers building from the 1990s.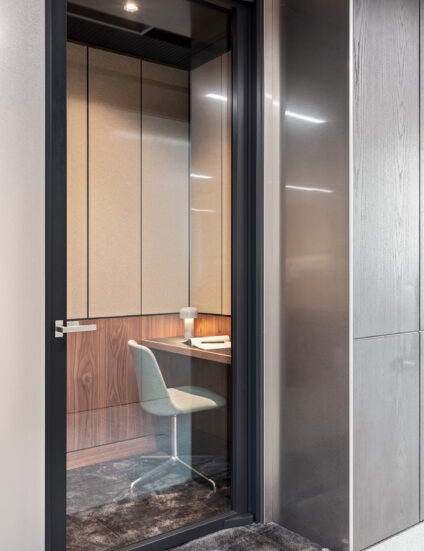 "Our aim was to create a space that juxtaposed the traditional and modern financial worlds, cemented crypto in the physical world and reinforced a sense of trust and tangibility. Part of our brief was to create a sophisticated, refined environment that not only excites, impresses and entertains but also creates a magnet for new talent."— Carly Sweeney, Director at Universal Design Studio
The finance and banking field has a long-standing history of evolving architectural trends tied to its changing service offering and role in society. From the early italianate styles which popularised a palazzo style building and sought to attract the middle-classes, to philanthropic banks who utilised gothic and tudor styles for accessibility and the later eclecticism style preferred by Victorians. Creating physical spaces for a sector that was itself rooted in human interactions and real-life experiences provided clearer guidelines. With a digital-first approach, reconciling digital habits, cashless banking and crypto-financing in physical form posed a new challenge.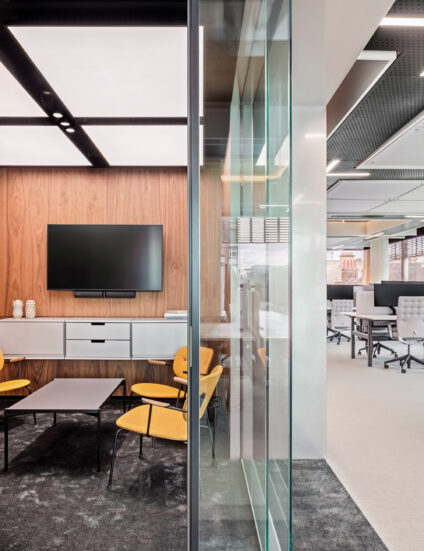 "We really focused on the contrasts between the familiar and unfamiliar by juxtaposing finely crafted materials with highly engineered detailing to create a series of immersive and contextual spaces. Dramatic, plush, cinematic meeting rooms in the heart of the plan, surrounded by light filled, neutral workspaces looking out over the panoramic views of London."— Jake Powley-Baker, Design Director at Universal.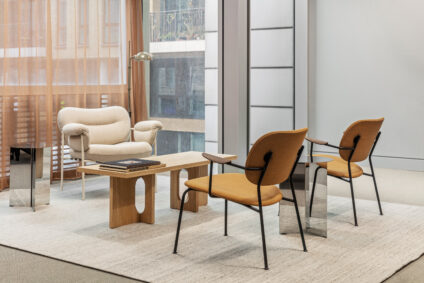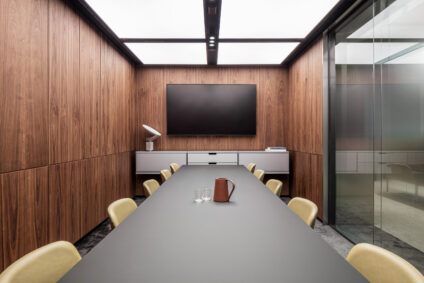 Copper's main focus was on the journey of its clients and so the design approach draws in part upon historic icons of banking architecture through a contemporary lens, to create a familiar space that feels safe, whilst also pushing the boundaries on expectations. These include the use of codified materials such as marble and walnut that provide a sense of assurance and are contrasted by kinetic screens, dynamic light boxes and stainless steel creating an uncanny and cinematic environment.
Located on a bustling street in Soho, the lobby of Copper's HQ features jesmonite wall panels, linking back to more traditional bank entrances. Contrastingly, a gold desk, alcove and gridded light ceiling give a cinematic feel to the first space to greet guests, and allude to some of the more unexpected design elements further up the building. This idea of bringing together two distinctive finishes that are different recurs throughout the building, to echo the safe and trusted nature of finance with a new digital future.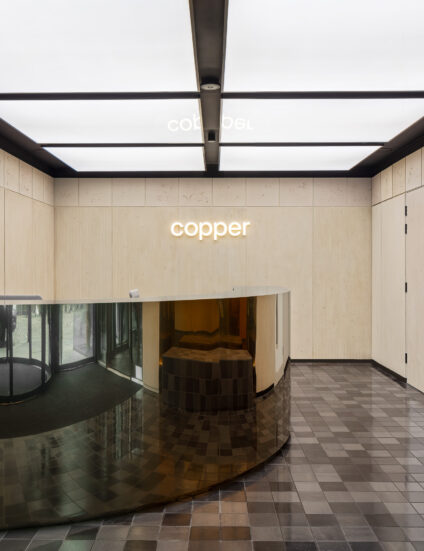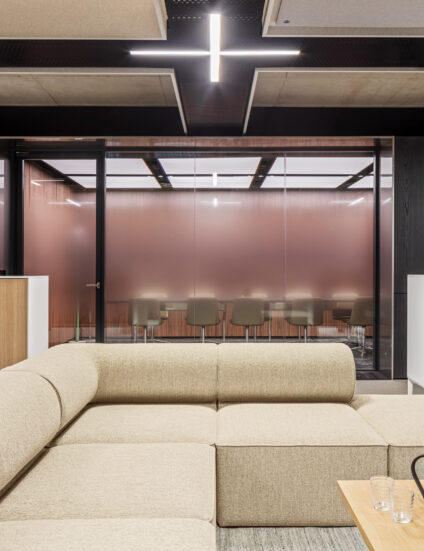 Between the ground and fifth floor are a series of hero spaces to create a network of connections for staff and a narrative for clients as they move through the building. This includes a digital safe and server room, executive studio and wellness suite. The team has also introduced recurring motifs including a dramatic gridded light ceiling that is seen on arrival, which repeats in meeting spaces throughout the building. Inspired by cinema and film, the grid is also used as a signifier for spaces that clients are invited into and a sense of order.
The main workspaces for the Copper team are light, with a focus on natural materials and a connection to the street level around the perimeter, playing to the strengths of the original facade design which focussed on transparency. A central 'Copper Core' runs through the entire building, punctuating each floor, for the staff work floors this contains key amenity spaces such as meeting rooms and quiet rooms.
Set away from the transparency of the exterior facade, the 'Copper Core' meeting rooms are less light-filled than the main work areas. To create a space that felt inviting, we chose to panel the walls with walnut, using the tactility of this natural material to add a feeling of safety and familiarity. Micro-perforations were engineered into the panels to optimise acoustics and maximise privacy.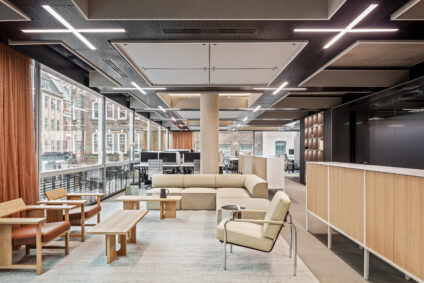 Material transitions include stainless steel thresholds, designed to create a sense of arrival away from general working areas into the Copper core.
On the second floor, a large corner screen signposts the external walls of the server room, the digital content shifts throughout the day and provides a design cue as to what the space holds, creating visual impact on arrival and indicating the 'heart' of Copper's business.
Client spaces are organised on the sixth and seventh floors of the building with meeting rooms and a hospitality focus. The sixth floor has a focus on gathering both physically and digitally, cinematic experiences are again utilised in this space with dramatic sliding screens for large events and presentations.
The seventh floor members club can support flexible staff working throughout the day, transforming in the evening with a bar, lounge space and private dining. With inspiration taken from private members' clubs and luxury hospitality, the central focus of the space is a monolithic marble bar which faces out onto banquette seating. Here two juxtaposing materials are used to create a more unexpected form. Soft leather is sectioned by stainless steel which form blade-like intersections in the seating.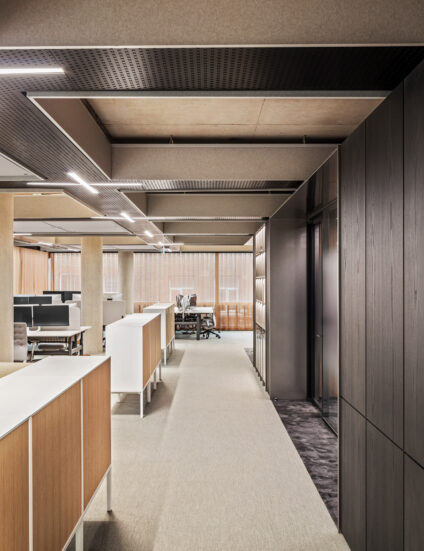 Choosing Soho was a purposeful move by Copper to bring the world of finance to a new destination in London. To highlight its arrival, we designed a curtain that can be found on each floor and runs the full perimeter of the facade. Much like old theatres or cinemas, the curtains are 'drawn' in the morning and close in the evening. Operated digitally, each floors' curtain closes in unison and the studio collaborated with lighting specialists Speirs Major to animate the curtain after dark.