Contemplating Monolithic Design
An exhibition for Sony at Milan Design Week
Exploring how electronics can be seamlessly integrated into furniture and spaces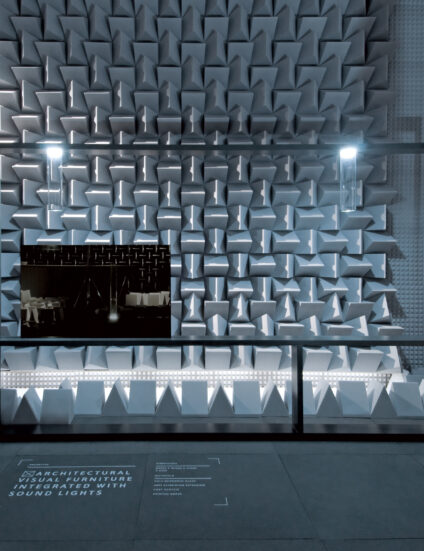 'Contemplating Monolithic Design' was an immersive temporary exhibition that we created for Sony that explored, through conceptual archetypes, the extension and integration of electronics, within furniture and architectural design. Showcased as part of the Salone del Mobile in Milan, the project was a collaboration with our founders Edward Barber and Jay Osgerby and Sony's own design team. Visitors to the exhibition were presented with a vision for the living room of the future, experienced via pushing the boundaries of technology and design.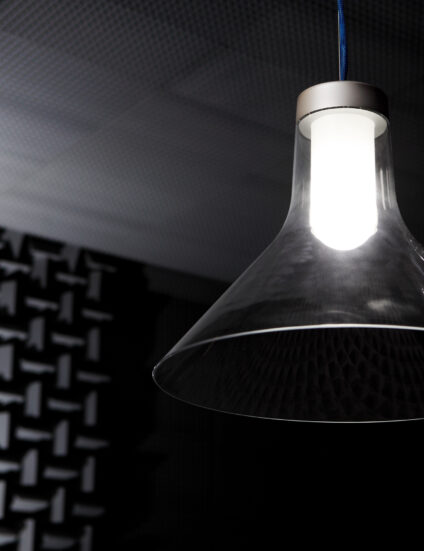 The exhibition was anchored to Sony's design concept, Monolithic Design, which was 'seeking only what is essential'. Inspired by this positioning, the combined design team considered the presence that products bring to a space. For us it was an opportunity to push experiential design to its limits. We clad the entire space in acoustic cones and pyramids to create an immersive sonic installation, an anechoic, reverberation-free acoustic laboratory to highlight the experimental nature of the exhibition contents. The experience of being in an anechoic chamber created a heightened perception, reinforcing the connection between the body, the objects and the space.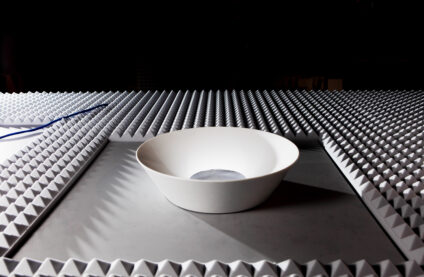 The exhibition moved you through a series of experiences from conceptual to contextual interactions. These included walls that responded to your presence through changing light and shadow, colours and shapes or through objects that acted as intuitive yet physical interfaces simply by touching them. The exhibition also focused on exploring the extraordinary research technology used by Sony that enables almost any surface to be used as a speaker; using an embedded chipset, materials as diverse as wood, Corian and Perspex were used to create experimental speaker designs for different areas of the home. Challenging and immersive, the show redefined both our perceptions of everyday technology and its capabilities and Sony's own role in its changing use.