Art meets fashion in Galataport
A new retail destination for Turkey's foremost luxury department store, Beymen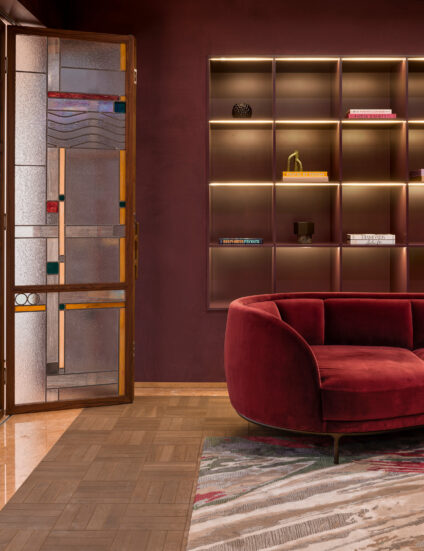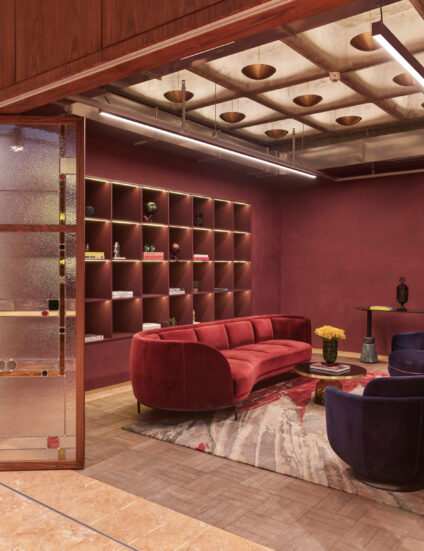 Since its inception in 1971, Beymen has been the forerunner in bringing luxury fashion to the Turkish market, offering the most prestigious fashion houses throughout more than 90 stores nationwide. The heart of Karaköy Istanbul was a natural progression for an additional Beymen site; the harbourside arts destination attracts an affluent, avant-garde crowd, abundant with cultural institutions such as MSGSU Istanbul Museum of Painting and Sculpture, SALT Galata, and the Istanbul Modern, Turkey's first contemporary arts museum founded in 2004 set to reopen at its new Renzo Piano designed space this autumn. Alongside locals, this outpost will play host to a slew of international tourists from Europe and beyond.
Positioning Beymen as a must visit on the arts circuit was a central aspect of the Galataport brief. The 3,000 square metre, three-floor site centres around the concept of a gallery; a select edit of pieces have been curated throughout a highly stylised space - a first of its kind for a Beymen store - and sit side-by-side with artwork exhibits from the Beymen Group Contemporary Art Collection. Universal opted to hero and expose the building's raw concrete framework to create a dynamic juxtaposition to the rich artwork, boutique clothing, and opulent material palette. This anti-luxe style was designed to resonate with cosmopolitan clientele familiar with the likes of Dover Street Market.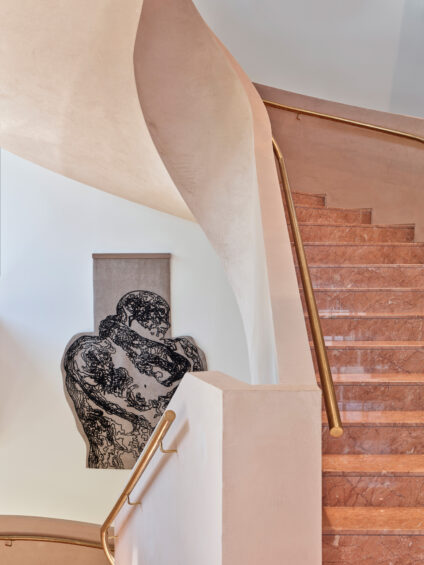 Universal's architectural concept focused on the synthesis of East and West of which materiality played an integral role. By combining Turkish and European craft, the Universal team was able to strike a balance between decorative and simplistic: traditional materials of marble and walnut timber juxtapose contemporary Jesmonite marble-like slabs and serve as backdrops to mannequins and clothing, whilst creative plinths formed from glass bricks showcase shoes and accessories. Shelving and rails take on geometric, angular forms, built-in high-quality materials of brushed brass, marble, and walnut wood. The resulting product displays are vastly more dramatic than those previously seen in Beymen spaces.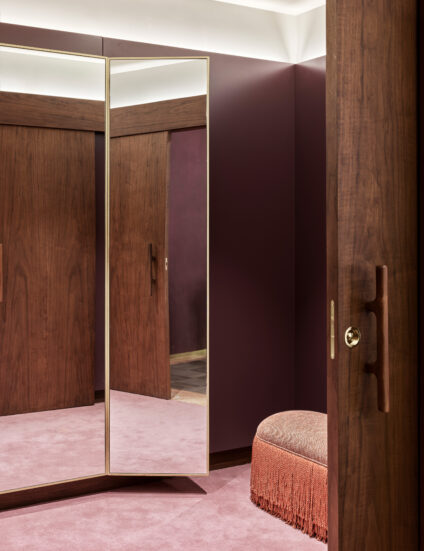 A further nod to traditional Turkish interiors is the intricate marble flooring, formed from tessellated hand-cut triangle tiles with a patchwork pattern that varies in gradient. The design team harnessed the floor as a subtle wayfinding tool: ochre tiles define womenswear whilst emerald green the mens. The tilework pattern grows in density as the flooring nears hero spacial features such as curtain wrapped changing room pods dispersed throughout the floors, and the sculptural plaster-like staircase that anchors the centre of the space.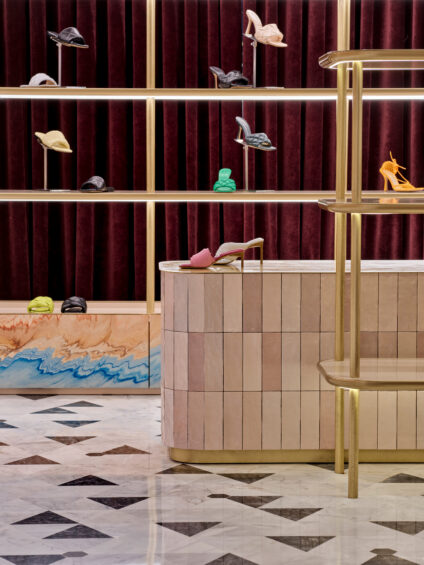 "Karakoy is one of the most creative and colourful neighbourhoods of Istanbul. We drew a lot of inspiration from the local artisans that make this neighbourhood unique, by celebrating art across the store. We wanted these moments of art to shine by setting them against a pared back backdrop. This was a huge departure from the more refined and meticulously finished stores Beymen are known for. But ultimately it meant that Galatport is a much more forward looking store that celebrates both art, fashion and design." —Elif Duztepe, Senior Designer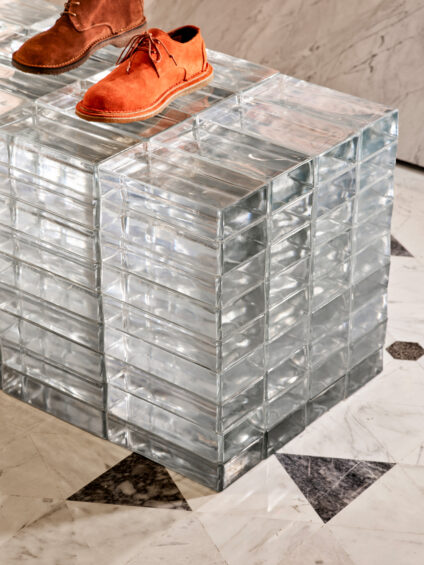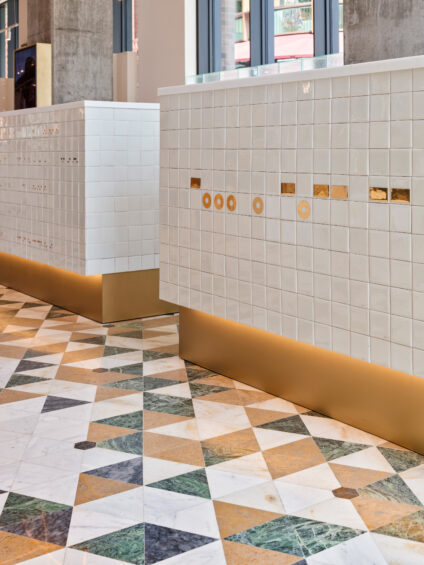 Unrivalled VIP treatment via its concierge service, Beymen Prive, is a mainstay of the brand, so creating a basement lounge on the lower floor for private one-to-one shopping experiences, styling consultations or tailoring was another core element of the brief. At the base of the sweeping staircase, a timber sliding door inlaid with geometric patterned frosted glass adds to the feeling of exclusivity. Inside, Universal opted for a moodier palette to give the secluded space an air of sophistication, seen in maroon coloured walls, a vintage scarlet velvet sofa and sapphire blue armchairs framed by painted timber feature wall shelving. Given the lack of natural light on the lower level, lighting took on a pivotal role in creating a rich atmospheric setting: wall-to-wall strip lights cast a soft downward glow whilst bespoke brass uplighters illuminate each cavity in the concrete ceiling making a feature of the building's exposed structure.
Further pieces of vintage and iconic furniture from famed designers - Patricia Urquiola, Antonio Citterio, Jaime Hayon, Eileen Gray, Isamu Noguchi, Verner Panton - have been specified throughout all three floors to add to the space's unique, one-of-a-kind feel, and help create breakout areas for visitors taking a moment's respite whilst shopping.