A collaboration with British Creatives for BBC Studios at Cannes
A temporary steel structure serves an exhibition icon at the festival over the course of three years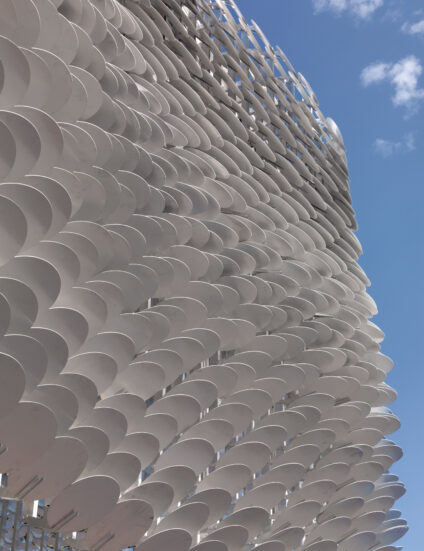 For BBC Studios' presence at MIPCOM 2019 in Cannes, we collaborated with Cheerful 21st, Christine Losecaat and Giles Miller Studio to co-create a game-changing, world-class physical brand space and experience that represented the unmistakably British, bold and creative spirit of BBC Studios, whilst being able to transform from a place of business during the day to an event space during the night.

Giles Miller Studio creates artistically focused surfaces, architecture and sculpture. In each discipline the studio brings new meaning to spaces by celebrating the relationship between materials and light which was harnessed in this collaboration with our studio.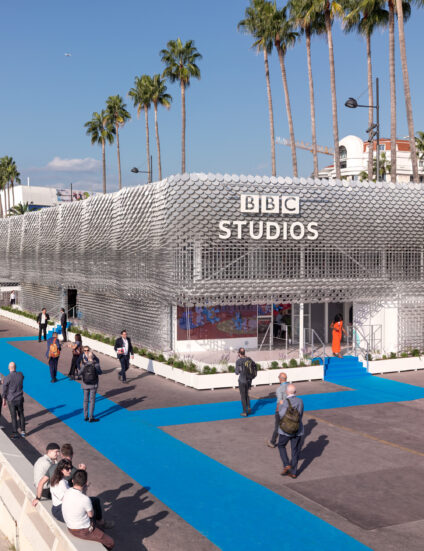 Given the site context the teams created an overhanging double story structure designed to provided natural shading to the lower floor. Central to the pavilion sits a core of private meeting rooms and operational facilities. The exterior of the core provided a backdrop to public spaces showing the BBC content and meeting and greeting points, while wings allowed for smaller screenings, or semi-enclosed meeting rooms closed off by heavy duty curtains.
Designed to facilitate modular assembly it was built and disassembled within 6 days and has the capacity to travel globally. It is built from raw, recyclable materials and intended for an environmentally sustainable legacy.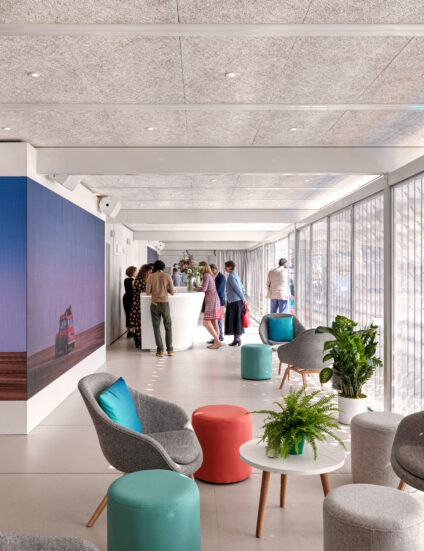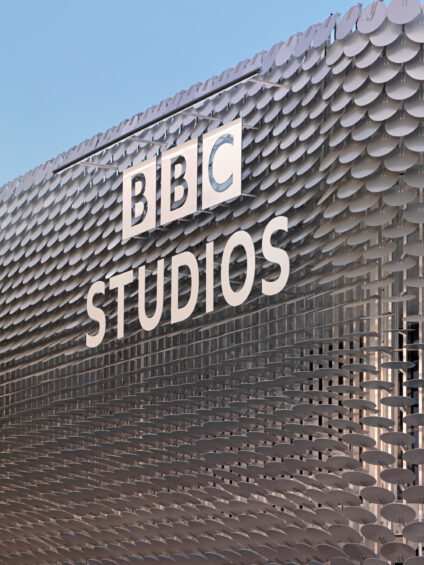 Our combined ambition with Cheerful 21st, Christine Losecat and Giles Miller Studio was to create a sustainable and re-useable design, especially when compared to the traditional exhibition stand - often single use, inefficiently designed and created with materials that cannot be reused. By focusing on the prospect of reuse, with fabricators Stage One, we were able to collaboratively arrive at an efficient and game changing asset for the BBC.
"The facade perfectly fuses architectural functionality with sculptural composition." —Giles Miller

Views from the second storey over the Mediterranean are amplified when the external petal façade opens to reveal the viewing platform above Cannes bay allowing the building to take on distinct identities from day to night - during the day allowing partial views into the pavilion, creating interest and intrigue for visitors while providing privacy to the interior. At night the pavilion emits light and activity through its porosity and from the open façade.