A dialogue between art and architecture
A former bank building on Stockholm's Brunkebergstorg Square takes shape as a luxury hotel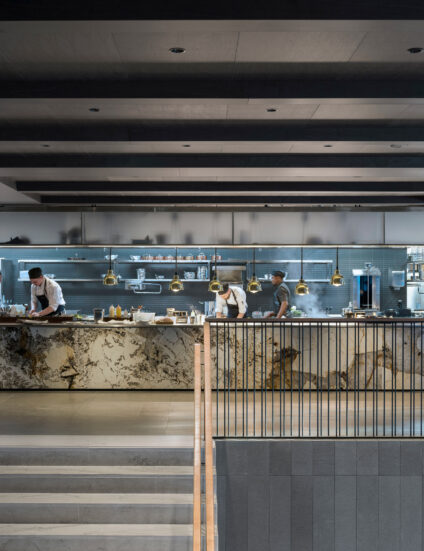 "Working with existing properties is a real passion for us as a studio and the challenge is to create a genuine dialogue with the existing building. This starts with listening to the building, the city and the people." —Jason Holley, Principal at Universal Design Studio
We were commissioned by Nordic Hotels & Resorts to reimagine the interior of a former bank building on Stockholm's Brunkebergstorg Square as a luxurious, 343-room signature hotel. Called At Six, the hotel marries the building's brutalist beginnings with new and luxurious interventions that are inspired by the extensive art collection which is displayed inside. The resulting scheme includes ten floors of guest rooms, a penthouse suite, 100-cover restaurant, wine bar, cocktail bar and 2,000 sq. m events and flexible workspace.
The hotel's public areas are made up of distinct spaces with different atmospheres, designed to soften the brutalist architecture. As you enter, you are greeted by an impressive white-granite grand staircase, adorned by a massive sculpture by Catalan artist Jaume Plensa. It is one of the standout artworks from the collection that also includes works by Olafur Eliasson, Julian Opie, Sol Le Witt, Tacita Dean, Spencer Finch, Richard Long and Marijke van Warmerdam.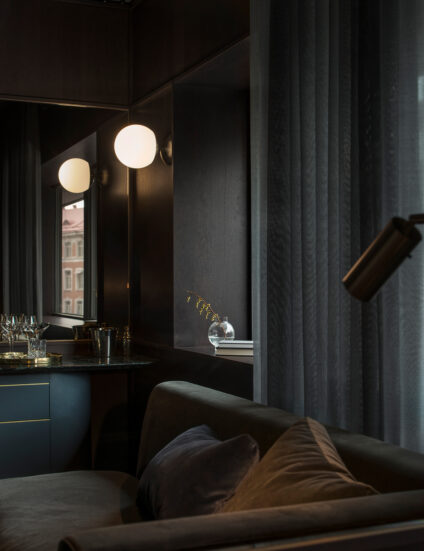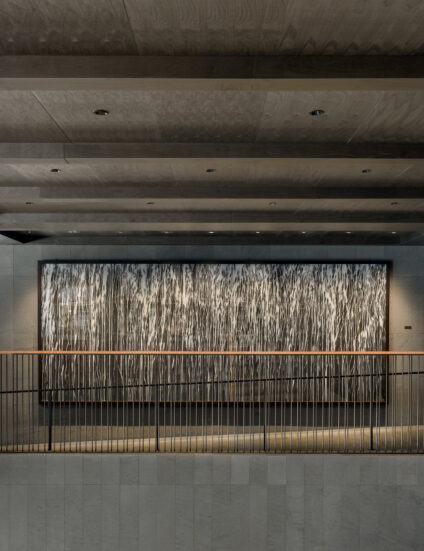 In the late 19th century, the Brunkebergstorg Square area was a fashionable hotspot frequented by intellectuals and artists and celebrated for its ornate belle epoque architecture – Sweden's very own version of Paris' Left Bank. This changed in the 1960s when, in a bid to modernise the city, the socialist government of the day tore down the old square and commissioned a series of uncompromisingly brutalist buildings. These included the Riksbank designed by Swedish architect Peter Celsing at the north end of the square, which is considered a modernist masterpiece.

When it was bought in 2014 by Petter Stordalen's progressive Nordic Hotels & Resorts group, it had been derelict for some time. Its restoration is part of Stordalen's wider master plan to rejuvenate the Brunkebergstorg Square area. In 2015 local architectural practice White Arkitekter refurbished the building's listed facade and added three new modern floors, and we began the two-year process of transforming the interior so that it could fulfil its original intended purpose as a hotel.
Raw, brutalist architecture and a chic, comfortable 21st-century luxury hotel are perhaps unlikely bedfellows. We therefore faced a complex and contradictory challenge – to create an interior that is authentic and in keeping with its context, yet still feels warm and inviting. We sought to humanise the architecture, using fine layers of natural textures such as timber, sawn stone, polished granite and marble, contrasting brass and blackened steel.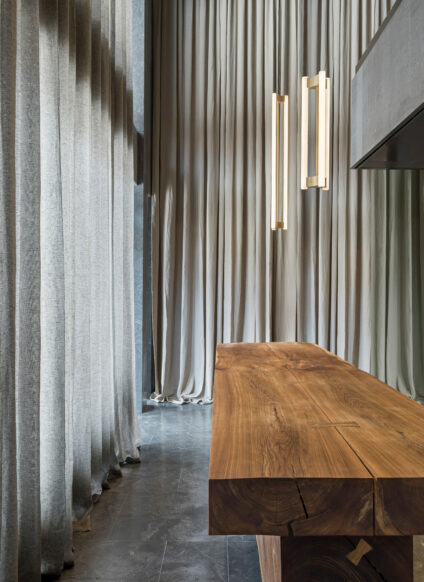 At Six is central to the social and cultural rebirth of Brunkebergstorg Square. The lounge and lobby spaces have been devised as a relaxed hub for guests and locals, where people can meet and work during the day, and enjoy cocktails, informal dining and live entertainment in the evenings.
The dramatic central staircase acts as circulation and a stage, drawing guests upwards to the restaurant, The Dining Rooms. This intimate all-day brasserie wraps around the stair on the first floor with hand-finished Danish leather banquettes offering views back into the hotel and square below.
During the renovation we worked closely with curator Sune Nordgren to compose a dialogue around the collection, devising a series of unexpected moments and experiences within the hotel. These artworks shaped the architectural mood and layout of specific areas. The art is impressive – imposing, but not intimidating, subtly adding beauty, luxury and aesthetics to transform the space into a contemporary version of a metropolitan grand hotel.