Placemaking in London's Knowledge Quarter
Universal Design Studio creates its fourth location for The Office Group in London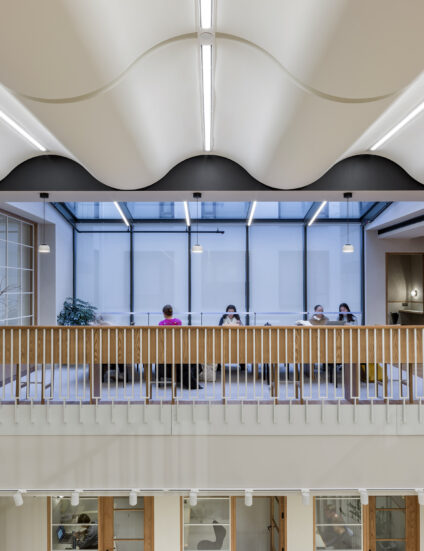 Our latest retro-fit for The Office Group pays homage to the cluster of learning and research hubs on its doorstep. Looking to the likes of the British Library, Wellcome Trust and University College Hospital, we set out to create our own modern-day institution. From hidden reading rooms and publicly accessible spaces to formal furniture layouts and classic library typologies, we've created a space to foster productive partnerships and encourage creative interaction.
On entering from the bustling Euston Road, visitors are welcomed into a bright and vaulted social hub that anchors the site, and puts emphasis on community and connectivity. The large reception, cafe and residency space provide a much needed circuit break from the busy street outside, and creates a space for the public and an intermediate area before entering co-working or private office spaces. One of the key design challenges was reconciling the depth of the building with the need for natural light. In keeping with the institution references, Universal adopted the use of colonnades and arcades to dissect the space rather than corridors which allow offices to benefit from daylight and maintains vistas to the outside.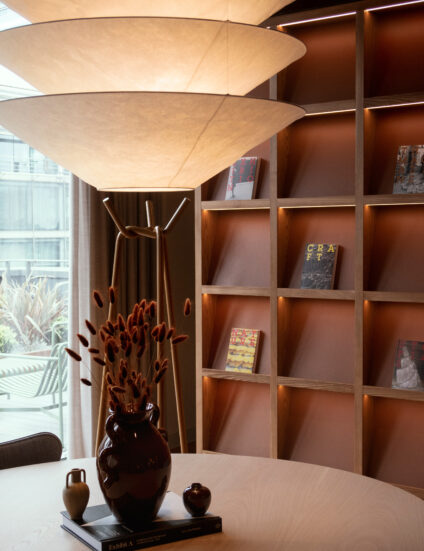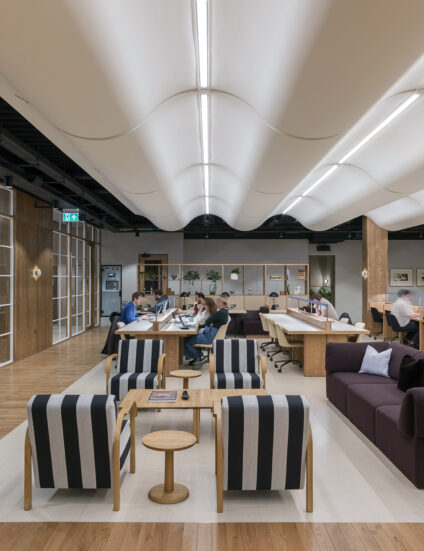 To echo the permeance of the surrounding cultural and learning centres, furniture and fittings have been selected to feel timeless and classic. By distributing furniture in formal arrangements and supplementing with built-in designs, Universal has created a space that feels confident and assured. The interior colour palette is a further nod to the institutions with a base of creams and natural timber warmed by aubergine, ochre and blue. Confident large scale textiles and over-sized stripe motifs used throughout upholstered furniture and flooring further reinforce the assured look and feel. In keeping with Universal's architectural ethos of 'designed to last', the material palette leans heavily on natural woods that develop a patina with time rather than needing to be replaced, future-proofing the space.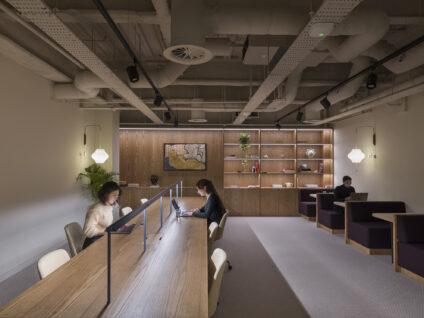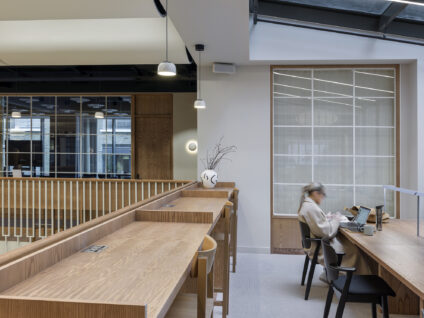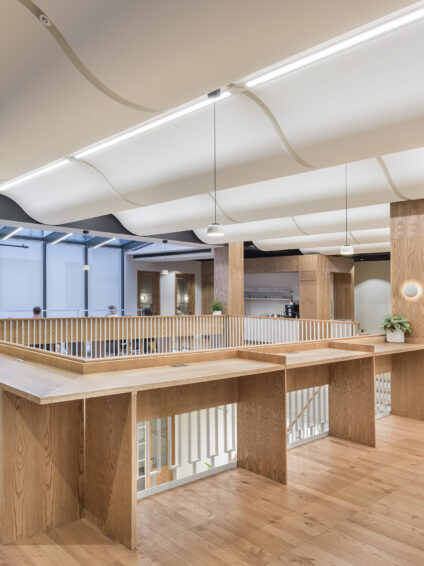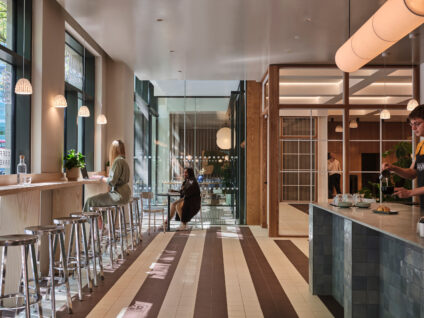 "At 210, everyone has access to the front half of the building, which hosts a cafe, large reception and a residency space. These ideas embody a contemporary institute, providing a space to exchange knowledge and ideas while naturally fostering collaboration."